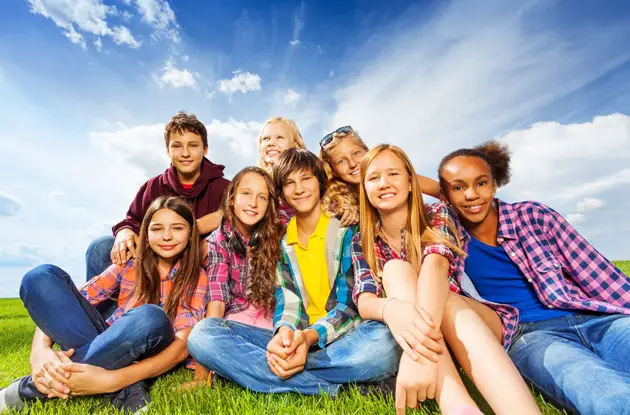 How Summer Camp Prepares Kids for College
10 ways camp helps with the transition to collegiate life
Get family activities sent to you
Get things to do with your kids
Delivered right to your inbox
Respect yourself and others.
Camp provides us freedoms we might not have at home while encouraging us to make good choices, take care of ourselves, and use good judgment. These lessons continue after we leave the grounds in August. Camp discourages bullying, teaches us to speak up for fellow campers and ourselves, and reminds us that although we're away from home and school our character still counts and our actions have consequences. College life comes with privileges of freedoms, new people and attitudes, and many of the same choices as camp. Remembering the advice of camp counselors from our youth who constantly reminded us to respect ourselves stays with us and often pops up in critical moments when we have difficult choices to make.

Share your skills and your stuff.
Jill always brought the coolest clothes and stuff to camp. No one knew more about all things agricultural than Erin. Mr. Bill could fix everything, and his wife made the best iced tea in the world (well, according to us). Carolyn showed us how to make a one-match fire, and Maryanne introduced us to our favorite crumb cake recipe. Some people shared stuff, some shared knowledge, and others shared experiences—and it all mattered. Those who had something to share felt good knowing they were able to help someone else. Those who benefited from the generosity felt a connection, a boost in positivity, and often a desire to continue to pay it forward. College is much the same. Sometimes it's as simple as sharing a pizza, lending out a sweatshirt, copying class notes for a sick friend, or explaining a statistics problem at 3am to your stressed out roommate. At camp we borrowed clothes, lent encouragement, and shared our knowledge. It was never about who had or knew the most or the best of anything; it was about those with the biggest hearts, the kindest ears, and the ability to be there. It mattered then, and it will continue to matter throughout college and the years thereafter.

Everyone has something to teach and to learn.
Trish the nurse taught me how to safely remove a tick. Mr. Bill showed me how to chop down a tree. Laura taught us to sing our hearts out. Millie taught us to cook, Adrienne showed us how to make our well-worn beaded camp bracelets, and I stayed up nights studying lifeguarding with Jackie. We all pitched in and we all offered up what we knew. But it was more than just tangible things: Krista taught me to deal with change, campmates taught me the magic of friendship, and hundreds of counselors taught me kindness, courage, resilience, and perseverance. College was no different. We learn from our professors, our advisors, our friends, our surroundings, and often locals and strangers. Having an open mind, acknowledging that lessons come in all forms, having willingness to share what we know, and showcasing the ability to listen and share—camp introduced us to these lessons, and for that we are forever grateful.

Don't be afraid to ask for help.
The road from Girls' Camp to Boys' Camp was covered by the trees' canopy and lined with shrubbery. At night, there were parts of the path where you could barely see the glow of the stars. Whenever we had events at Boys' Camp, fear of that dark set in. Erin was always there with a hand to lend. If she walked in the middle of the road, anyone whose arms or hands were intertwined with hers was safe from the brush and the creatures of the night. In college, I never would have gotten through statistics without the help of my science- and math-minded friends. When the methods were confusing and laden with frustration, those friends stepped in to lend a hand. Camp taught us not to be afraid to ask for help, whether we needed a hug when we were sad, a boost to reach the top of the rope, a spot with that back-handspring, a buddy for swim, or a friend with whom to walk home. Later in life, we were filled with the knowledge that asking for help only made us stronger, and we were often prepared to lend a hand when asked.

Face your fears.
Nature's creepy crawlies wound their webs in all sorts of knobby corners at camp, and our bathrooms were outside. Then there was the swim test in the first days of the season. Camp taught us the need to face our fears in order to conquer them, to not get swallowed up by those emotions, and to always offer to help others face their own fears. As our worlds grow, often so do our fears. College finds us in new spaces, with new people and new experiences. Each time we try to push past that comfort zone, there's fear. Camp reminds us that those fears (whether of failure or spiders) are normal, don't make us any "less," and are conquerable. Jackie got back on the horse after she was thrown off, Jill got back in a canoe after she busted her foot, and I jumped off of the biggest rock I've ever seen. We knew the future was full of unknowns, failures were bound to happen, and obstacles would most certainly pop up, but we also knew all those things we had to overcome were manageable.
Want more content like this? Receive our Scoop packed with great ideas