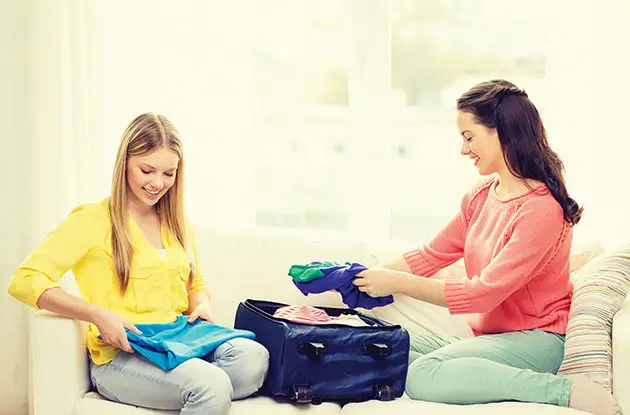 Helping a Child Cope When an Older Sibling Goes to College
In families with two children, an older sibling's departure for college can spark mixed emotions in the younger child who remains at home. Here's how to cope.
Great Spring Activities - in your inbox!
Spring Family Activities in Your Inbox!
Sent every weekend
If your child is really struggling with loneliness, it's important to recognize the things that have not changed, the appealing things that still exist, and to create new things, Sturmer says. "Often children and teens have a view that can be distorted—an adolescent brain is working from a very different place than an adult brain—so it's very important to try to gently acknowledge the loneliness and emphasize the things that challenge the negative thinking." Remind younger children of all the benefits they have now that the older child is out of the house. These may include having the family car or other shared items to themselves, having more room in the house for sleepovers, and receiving more attention from parents.

Encourage Communication Between Siblings
If your younger child really misses having face-to-face time with her older sibling, have them schedule a digital date once a week. FaceTime or Skype is a great way to connect with your child who is away. Once a weekly date is established, this will give both siblings something to look forward to each week—after all, the child who is away at college may also be experiencing some level of homesickness, and this is a great way for her to reconnect with home. If video chat doesn't work, "a quick text, an Instagram, Snapchat, or Facebook message goes a long way for children and adolescents. Regardless of our opinion of social media and technology, we are flooded with it and our children are tied to it. In this case, it can be used as an easy simulated 'visit,'" Sturmer says.
Parents can also help their younger children connect to their older siblings by working on creating a care package together or making plans to visit as a family. When the older one is back from college, parents can arrange for "sibling-only" outings or even nights at home.
Having a child go off to college is an exciting time, but can also be fraught with a lot of different emotions for everyone in the family. "If a child (or parent) is feeling very challenged by the change in family dynamic and circumstance, consulting with a psychotherapist who is knowledgeable with this stage of life and the specific challenges the family members are experiencing is important. To wait until things escalate can be problematic and unnecessary. Sometimes just a simple consult can go a long way," Sturmer says.
RELATED: Find Therapists in Your Area
---
Want more content like this? Great Family Activities Sent To You!
---