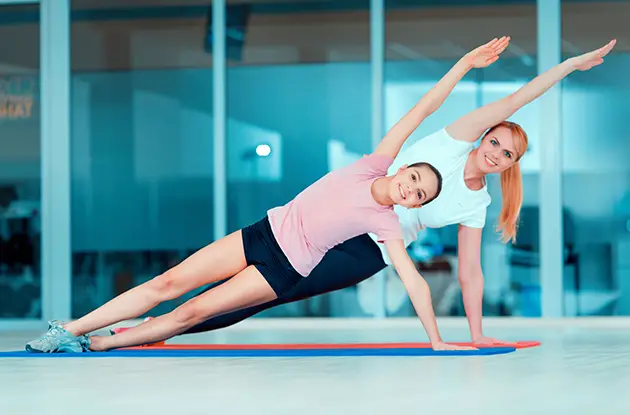 How to Help Your Teen Get More Exercise
Most adolescents are a lot less active than they should be—get yours moving with these expert-approved tips.
Get kid-friendly activities sent to you!
Get the Best Family Activities
Sent to You Weekly!
Take It Outside
There are even more opportunities for exercise outside the house. Get your teen up, out, and at 'em with these tips.
Have the right outdoor equipment on hand, says Nedra Lopez, co-owner of P.E. Club on Manhattan's Upper East Side. Hang a basketball hoop above your garage if you live in a house, and challenge your child to a quick game after school (or head to the nearest public court to do the same). Buy a set of orange cones for your yard or take them to the park and use them to play a simple game: Line up all the cones on one side of a patch of lawn, and challenge your kid to see which of you can pick up and rearrange the cones on the other side the fastest. Lopez is also a fan of resistance parachutes—small parachutes you strap around your waist that catch the wind as you run, creating muscle-building resistance. Want more fun? Invest in an agility ladder, which is a ladder-like device you lay on the ground. Play hopscotch with it, or check out YouTube videos of beginner agility ladder drills.
Sign up together for an athletic event for charity, says Sandy Liang, a trainer at Crunch in Manhattan. It can be as simple as a walk or as ambitious as a 5K you train for together, "and it also introduces your child to volunteer work," Liang adds.
Revisit your favorite childhood games. "Whether you played tennis or racquetball or something else, explore them together," Lopez says. It's a great opportunity for you to teach your child a sport you know, and it's quality bonding time, too.
Have your teen walk the dog if you own one and your neighborhood is safe for a solo excursion. One recent study published in the journal BMC Public Health found that dog owners walk 22 more minutes per day than people without pooches.
Plan active outings—and tell your teen to invite a friend. Hiking in a state park with Mom and Dad? Lame. Hiking in a state park with Mom, Dad, and Hailey from bio class? Way cool. Pals are everything to kids at this age, so provide a chance for some buddy time along with exercise. "They'll do a lot more when they're with their own peers," Liang notes.
Run errands without using a car, bus, or subway. If your destination is within walking distance, go on foot or by bicycle. "If you own bikes, get bike baskets so it's easy to take purchases home," Lopez says, "and if you're going on foot, take along backpacks."
Don't be discouraged by bad weather. "There are so many wonderful indoor exercise facilities," Diamond says. "There are places that you can go that have indoor skating, indoor rock climbing, basketball courts, tennis, and squash."
Whichever strategy or strategies you use, set aside regular time for exercise, and make it a habit. "We didn't wake up at age 2 able to go to the bathroom and brush our teeth on our own," Diamond observes. "Someone taught us day in and day out. We practiced for years until it became so routine that we didn't even think about it anymore, and exercise needs to become a habit, too." With your help, your teen will get moving in the right direction, one healthy step at a time.

RELATED:
How to Fit Exercise Into Your Day
More Articles on Raising Teens