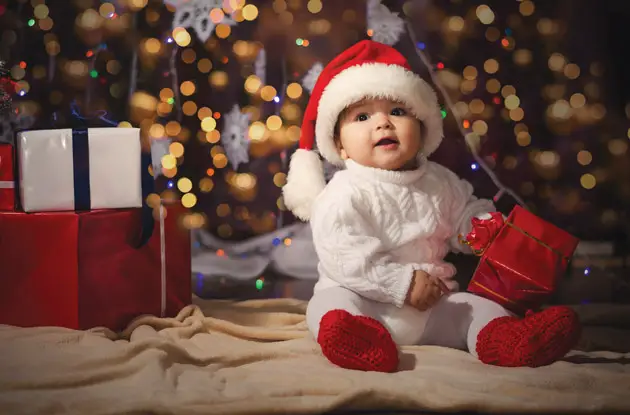 13 Important Safety Tips for Decorating Your Home During the Holidays
It's the most wonderful time of the year, but the holidays are also fraught with potential home safety hazards.
Get kid-friendly activities sent to you!
Get the Best Kid-Friendly Activities
Sent to You Weekly!
Use caution with electric lights.
This means using only lights that have been tested for safety by a nationally recognized testing laboratory such as Underwriters Laboratories. "And make sure to check outdoor lights for labels showing that the lights have been certified for outdoor use, and only plug them into a ground-fault circuit interrupter-protected receptacle or to a portable GFCI," Holtzman says. "To be safe always read the manufacturer's instructions for the maximum number of light strands to connect. Replace any strand [that has] a frayed cord or loose bulb connections."

Practice fireplace safety.
Once a year you should hire a professional chimney sweep to prevent build-up and potential fire hazards in your fireplace, Holtzman says. "In addition, be sure to put a safety gate in the doorway to the room with a fireplace or install a hearth gate around the area," she adds. Never leave your fire unattended. "Extinguish the fire fully before leaving the house or going to bed and allow the ashes to cool before removing them," she says. Ashes should be disposed of in a tightly covered metal container and placed outdoors, at least 10 feet from the home and any other nearby buildings. "Never empty the ash directly into a trash can," Holtzman says. "Always douse and saturate the ashes with water."
RELATED: How to Prepare Your Home for the Winter Months

Take precautions with button batteries.
You know those small, shiny batteries that are found in flashing holiday jewelry or holiday decorations? They're a severe choking hazard. "When swallowed, a coin-sized lithium battery can lodge in the throat of a child," Holtzman says. "Saliva then triggers an electrical current, causing a chemical reaction that can severely burn the esophagus in as little as two hours. The chemicals in the battery can also cause serious harm to a child if the battery is inserted into the ear or nose." Your best bet: Corral any item that contains lithium batteries including your remote controls, toys, singing greeting cards, digital thermometers, flameless candles, calculators, key fobs, watches, flashing holiday jewelry, or decorations. "Know which items and devices in your home have button batteries," Holtzman says. "Children love to pick up gadgets, play with them, and take them apart. Duct tape battery compartments if they do not have a screw to secure them closed, and keep these objects out of the sight and reach of small children."

Keep alcohol out of reach.
That bowl of spiked holiday punch and those cups of leftover drinks (including the ice cubes in them) that may be strewn around the house should be kept out of reach of children at all times. Ditto for the eggnog. "Alcohol affects children more drastically than adults, so even small amounts of alcohol can be dangerous," Holtzman says. "Remove all empty and partially empty cups as soon as possible."

Plan menus around guests' allergies.
The holidays are a wonderful time for friends and family to get together, but a celebration can go seriously awry if any guests have allergies to the foods you are serving or the ones that are being brought to a potluck. Send around a list of foods you plan to serve to your guests before they arrive at your house so you're sure to keep your visitors safe.

Place choking-hazard treats out of reach.
For many families, holiday parties are best known for featuring delicious homemade Chex mix and bowls of mixed nuts. "Those are exactly the types of foods you should keep out of the reach of young children," Holtzman says. "Any firm round foods such as popcorn, nuts, and candy canes should be kept as far away from children as possible because they pose a choking risk."

Create an no-kid zone.
If you're planning to serve food from your stovetop, whether it's a bowl of chili, stew, or other cold-weather goodies, make your kitchen a no-kid zone, Holtzman says. Consider this a safe way to make sure your cuties don't get splashed, burned, or injured while you're cooking.