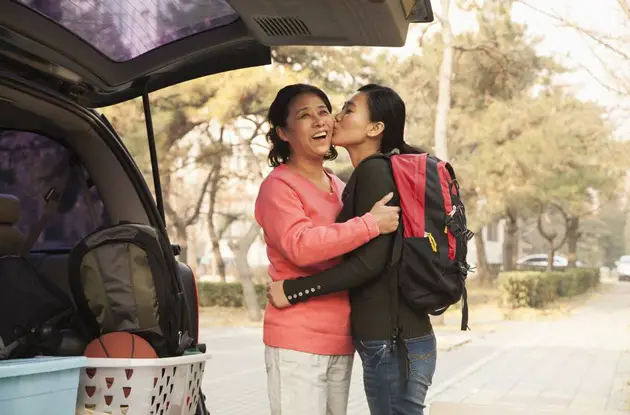 5 Ways to Survive Your Child Going off to College
Your little one has finally left the nest. Now what?
Get kid-friendly activities sent to you!
Get the Best Family Activities
Sent to You Weekly!
Don't forget the role that you have played in all of this.
Because of you he is ready to leave home and thrive. Don't underestimate the value of this. Without you this never could have happened!

Cry... But not too much.
It's okay that that you are feeling sad. Your child is feeling sad too. Leaving home leads to mixed emotions.
Tell your child that you are sad that she is leaving and that you are going to miss her. She need to know. It's important that she sees real emotion from you, emotions that She can mirror.
Don't go on and on about how much you will miss her. Don't lie on her bed as she packs, sobbing. Don't make a scene when you drop her off at the dorm.
Burdening your child with guilt will hamper her ability to assimilate into her new school. This is not good.
So cry…but within reason.

Plan a visit. But not tomorrow.
In October, when everyone is missing each other a lot, colleges schedule parent weekends. Kids get to share their new home and you get to buy them things. Fun times are had by all.
So plan to do this. Planning will make you happy.
Do not plan to visit your child before that. Don't stop by to do his laundry or help with his homework. It's like summer camp – he needs to go cold turkey from his parents to really settle in.

Take a good look at the rest of your life.
You have spent the past 18 years devoting yourself to your children and running your household. Now it's time to start taking care of you.
Take a good hard look at the choices you have made that have brought you to where you are today. Look at where you want to be in the next half of your life. Look at what is important to you.
This is your time. You have age and wisdom and now it's time to start at least laying the groundwork to living the life that you have always wanted.
The next few weeks will be tough but you will get through it. It's a magical time, a time for your child to enter his or her world and for you to begin to grow in yours.
Embrace it. It only happens once.