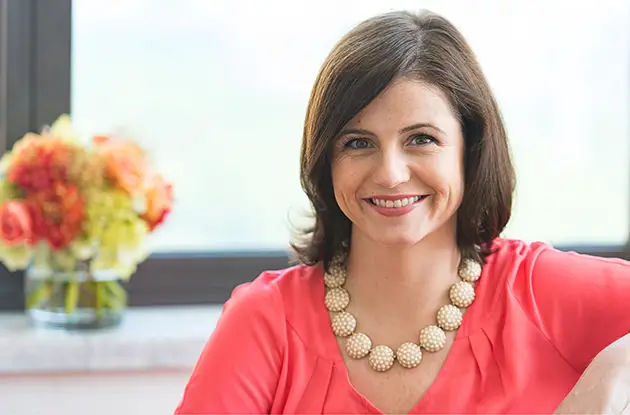 Advancing Your Career Through Parenthood
Get can't-miss family activities sent to you!
Get the Best Kid-Friendly Activities
Sent to You Weekly!
It should have been more of a red flag to me that there were very few women working in my department. I just chalked that up to Wall Street in general—I knew that it was a male-dominated culture. I came from politics where even if the staffers may be more female they elected officials who are ultimately the boss and are predominantly male. I didn't see it as something to worry about I saw it as an exciting challenge.
Kirsten Gillibrand [U.S. Senator for New York] has this line that she uses often about one of the best things about being a woman is that everyone underestimates you until it's too late. They don't see a need to be as defensive with you, they think you're not going to be able to win, they have all of these expectations that you're not going to be up to their level. When people underestimate, you its really easy to outshine those underestimations.
There really were only three other women in my role in NYC out of 75 or 80 people. I should have seen that if really only three women are doing this job that people are telling me is so family-friendly, there had to be something going on under the surface, that even if there wasn't explicit discrimination, it was much harder to succeed as a woman. Aside from that, there was nothing that I really could have done differently. I was good at my job. If you lead with that, you just assume that everything else is going to be okay, but in this case it just wasn't.

How can new mothers get ahead of and limit to judgment from coworkers for having a more flexible schedule?
Every woman I talked to that was constrained by child care hours felt spectacular guilt every time she walked out of the office. Those women don't want to talk about it because why would you want to bring up something that's making you feel terrible? And the colleagues who are watching you walk out the door don't want to bring it up because they don't want to begrudge a mother's time with her children. What no one is acknowledging is it's making everyone unhappy.
As hard and uncomfortable it can be, clearly tell your colleagues: I have to leave every day at 5pm for child care pickup. I hate walking out of here while all of you are still working. I am going to do everything I can to cram as much work into the 8 hours I am here, so you may see me decline meetings that aren't absolutely critical for me to attend. State whatever accommodations you reasonably can make to ensure that you are able to stay on equal footing with your colleagues.

Why did you decide to hire a full-time nanny rather than a child care center?
For [me and my husband] it was really about flexibility and convenience. We both worked long hours. I anticipated when I went back to work after my son was born that I would again be in a job that had pretty inflexible work hours. I did wind up being able to take a job that was, for the most part, 9-5, but even in NYC with a 9-5 job you have to allow yourself an hour to get to and from your office because of crazy city commutes and needing to give yourself a little bit of handoff time. A lot of the day cares were really strict about the drop off and pickup times—some of them would start to charge a dollar a minute if you were late.
We also didn't want to have to commute to day care with a child. I didn't want to get on a subway with a baby in the morning and then drop off my baby at a day care facility and then go onward. The real thing for us was that day care was not that much of a cost saving over a full-time nanny. For the incremental difference in cost, like when you take into account needing extra babysitting around the day care hours, our ability to have someone take care of our child in our home, deal with things like grocery shopping for us, all of these other small things that we didn't have time to do during the day, it was really worth it for us [to hire a nanny].
I know that not every family has that luxury, but a lot of families are starting to do nanny shares, and I talked to the head of Breedlove—now called HomePay, which is owned by Care.com—a payroll service for families that have child care providers and other care providers, and he told me that up to 30 percent of its customers are nanny-share customers, which I thought was amazing. All of these families are seeing how unaffordable day care is in large cities, they're seeing how crazily unaffordable nannies are in all of these cities, and they're finding this happy medium that gives the flexibility and focused 1-on-1 care of a nanny, but it's 1-to-2 care for, in some cases, less than the cost of day care.

What can men and women do to help change their office policies and work culture to be more accommodating to new parents?
I think that we are at this really amazing point where there are all of these conversations happening in the media, and dozens of private companies are speaking up and talking about family leave. You can harness that energy and that momentum and try changing your own company. I think the most effective way to do that is to talk about why it's good for your company. Talk in terms of the company's ability to retain outstanding talent and the company's ability to recruit great talent because it's a company that's progressive about family leave. Talk about all of the great press that companies are generating from the announcements they're making about their new 16 weeks of paid leave for both men and women.
Coca-Cola's case is not progressive in terms of time allotted, but very progressive in that it affords six weeks of paid parental leave to all parents in the company [in addition to the paid maternity leave provided to birth mothers through its short-term disability]. It's such an important signal that being a parent and taking care of a child is not women's work. It's work for parents.

Main image: Allyson Downey, author of Here's the Plan: Your Practical, Tactical Guide to Advancing Your Career During Pregnancy and Parenting and co-founder of weeSpring.com
Allison Hooban

RELATED:
Find Child Care Options in Your Area
Find Nannies, Babysitters, and Au Pairs