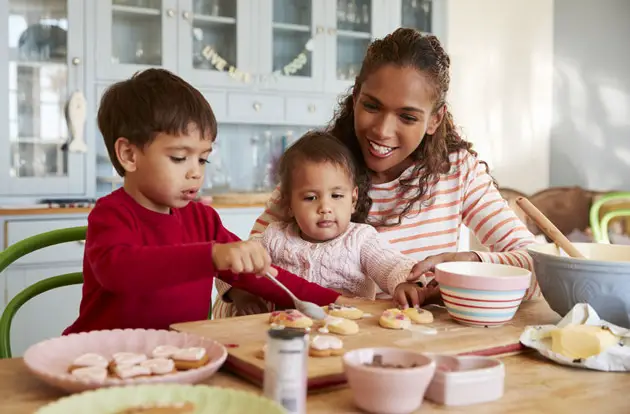 4 Ways to Keep Kids Entertained Inside This Winter
Affordable, easy ways to keep the "I'm bored!" to a minimum when the kids are stuck inside
Get can't-miss family activities sent to you!
Get the Best Kid-Friendly Activities
Sent to You Weekly!
Create an Indoor Fairy Garden or Grassy Gnomes
As the winter winds howl, playing in the garden is the last thing on our minds. However, just because it's dreary and cold outside, it doesn't mean we can't grow our greenthumbs inside. Hunt up a bunch of old containers, small toys, little figurines, shiny knicknacks (after all, it's common knowledge that fairies love shiny objects), small river rocks, potting soil, artificial flowers (no judgment here, do what works for your family), or easy to grow indoor plants like succulents—anything that your kids think will make for a homey fairy house. Next, craft a magical terrarium so you can enjoy greenery year-round. For added fun, during the evening when the kids are asleep, sprinkle a little "pixie" dust (I like to use simple sugar) around their gardens to make it look like the garden had visitors during the night. Alternatively, try your hand at making a Grassy Garden Gnome, which you can keep inside all year, or move outside for a whimsical addition to your family's garden. As you work together, teach your kids about the different parts of the flowers and their functions. Talk to them about the life cycle of a seed. Define what "healthy" means and how eating fresh fruit and vegetables from the garden are part of a healthy diet. As our plants grow, continue to build on this knowledge and keep the magic of plants alive.

Host a Family Book Club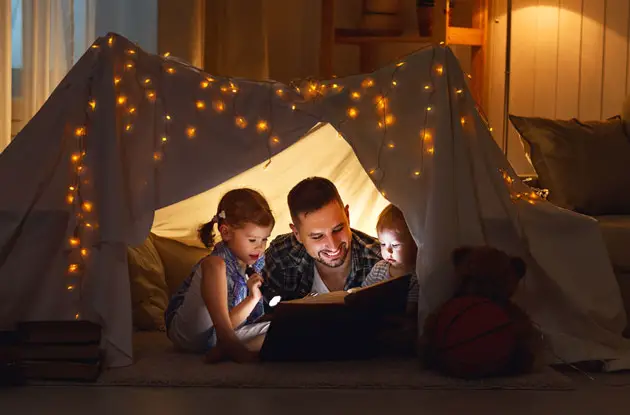 Spending time inside provides us with a great opportunity to read together as a family an promote literacy at home—reading to kids from the time they're infants does lead to numerous benefits down the line after all. Whether it's the classics, the latest children's series, or a favorite author's recent release, find books the whole family can enjoy together based on everyone's age and maturity level. Create a reading fort or cozy reading nook with pillows, cushions, blankets, and snuggly stuffed animals to get comfy in, then have everyone choose a book, read each one, and discuss them together. This doesn't have to be formal, let it be relaxed and fun. The key is spending quality time together and exploring books. By encouraging reading for fun, you can open a whole new world to your children without ever leaving home!

To put it simply, family time is important. The busier we are and the older our kids get, the more challenging it can be to have fun spending time and staying engaged. By planning fun activities we can do together, even during the winter, we'll be creating many happy memories, building strong family bonds, and teaching our kids important lessons along the way.