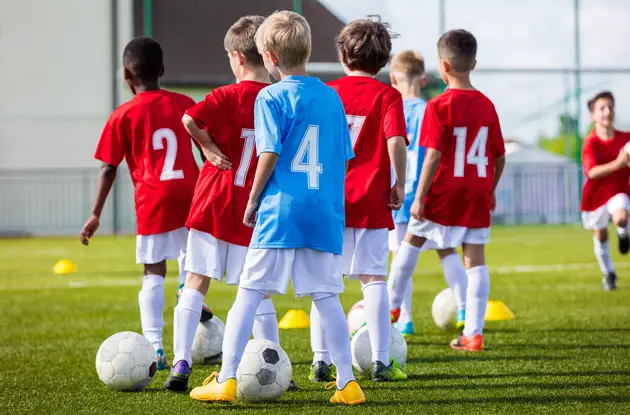 Keeping Kids Safe and Healthy During Sports Practices and Games
Two doctors weigh in on sports safety and injury prevention in children.
Get Sanity Saving Ideas and Activities
Get Sanity Saving Ideas & Activities
Delivered right to your inbox
Stay Hydrated While Playing Sports
Proper hydration is the key for any sport to prevent dehydration and other heat-related illnesses. Athletes should come prepared to practice with water bottles and be encouraged to hydrate prior to beginning the sport. Routine water breaks should be taken every 20 minutes during both practice and games. The American Academy of Pediatrics recommends drinking 4-8 ounces of water during each of these hydration breaks. Water is the preferred method of hydration over sports beverages.
Higher-level competitive athletes should weigh themselves pre-workout and 1 hour after workout. They should drink 16-20 ounces of water per pound lost. To prevent the spread of germs, children should not share their water bottles with other players. Coaches should come prepared with extra water bottles in case someone forgets.

Heat-Related Concerns
Take adequate rest periods during times of high heat and humidity. If possible, avoid outdoor exercise between the hours of 11am and 3pm during the summer months when temperatures are highest. This will serve to reduce injuries and heat-related illnesses. Parents, coaches, and players should be aware of the symptoms of heat exhaustion, including extreme drowsiness, headache, fever, nausea, vomiting, or change in breathing, and act promptly if they or their player starts to show these symptoms. Additionally, a broad-spectrum sunscreen with a minimum 15-30 SPF should be applied 15 minutes prior to exposure and reapplied every 2 hours.

Preventing Concussions in Child Athletes
It is crucial that athletes wear the appropriate helmet for the sport they are participating in. Helmets can prevent serious head injuries, but do not prevent concussions. Any type of head injury needs immediate evaluation on the sidelines by a trained professional. For any suspected concussion, the athlete should be removed from the game until they receive an evaluation and clearance from their physician. A concussion is a brain injury caused by rapid movement of the head and brain caused by a direct or indirect blow.
Typical recovery for a concussion is one to three weeks and adolescents take longer to recover than school age children. A gradual step-wise approach to return to play is used, as kids who suffer from a concussion are unable to return until they're symptom-free and have gone back to school full time. If there is a recurrence of symptoms, the child must go back to the previous step to allow more time for healing. It is crucial that athletes do not play prior to being ready to prevent second impact syndrome, which could lead to death. When it comes protecting children from potential head injuries, playing it safe and conservative is key.

Working as a team with your child's pediatrician and coach will help ensure the safety of the young athlete so they can continue to play the sport and avoid unnecessary injuries. As parents, it's important to remember to follow the same safety guidelines as our children so that we can be good role models and lead by example. Never hesitate to reach out to your child's pediatrician or coach with your concerns. The life saved could be your own child's!
Want more content like this? Like us on Facebook!