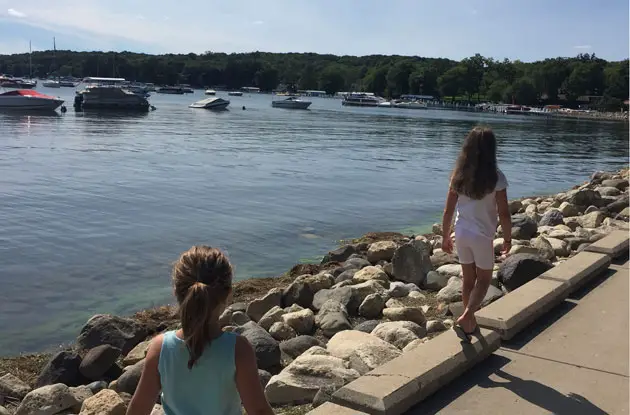 Lake Geneva, WI: A Quiet Family Getaway
Don't miss out on family fun ideas!
At-Home Fun for Kids
Get indoor activity ideas
The water park itself is geared largely toward younger kids, more so than others we've been at, such as Great Wolf Lodge, which caters to teens and even adults as well as the little ones. At Moose Mountain Falls, the formal name of Timber Ridge's water park, there were fewer scary, intense experiences, less noise, and fewer instances of water just plummeting down whether you want it or not. (It was noisy enough, though, to spook my 2 ½-year-old, who insisted on playing only in the outdoors part, which was calmer and quieter than inside.)
The water park features many of the experiences we've come to expect from such places, such as the lazy river and various slides of different heights. Moose Mountain Falls also has an outdoor kiddie pool with two small slides, and an outdoor pool for those who know how to swim, with its own somewhat larger—but still not scary—slide.
RELATED: Our favorite water parks closer to home, in the Northeast.

The Town of Lake Geneva
We went to the town of Lake Geneva mostly for meals at some of the several family-friendly restaurants. (For those so inclined, Bloody Marys seem to be big in this town for us grown-ups, for some reason.) There are also more ice cream shops per capita than just about anywhere else I've visited, and we partook liberally.
Aside from restaurants, the town has a small beach, accessed for a fee (although free after 5pm). The water is incredibly calm, and you can watch the boats on Lake Geneva coming and going from the nearby docks. Although we didn't get on board any of them, there are river tours and boat rentals available, which all looked like great fun. Plus, a path that starts beside the beach runs along the shore and allows for spectacular views both of the lake and of the beautiful mansions beside it.
The town also had many stores with crafts and gift items, which my wife and I would have have loved browsing had we been there without kids. We also spotted a bowling alley and movie theater, and there are many local performance venues and family events. The surrounding area offers myriad ways to enjoy nature and plenty of cultural events, though we were not there long enough to really explore any of these. And for any of you who are able to get there without kids, there are romantic inns and beds-and-breakfasts on and near the lake.
Ultimately, Lake Geneva is unlikely to be a primary vacation destination for those of us from the New York area. But if you find yourself in the vicinity—around Chicago, Milwaukee, or other points nearby--it's well worth the detour to spend a few days in the quiet beauty of this town and its surrounding areas.
RELATED: Get the top kid-focused area events sent to your in-box!
Want more content like this? Like us on Facebook!