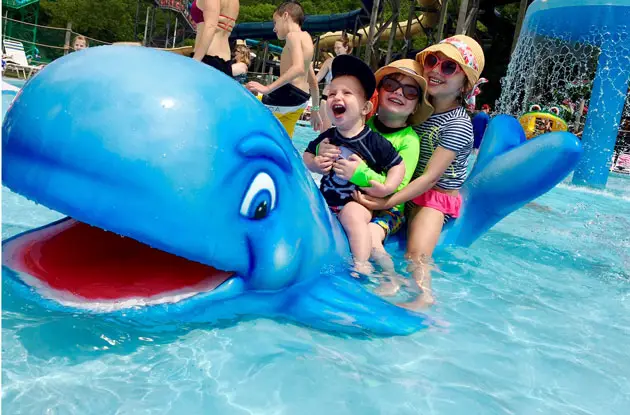 Land of Make Believe: Water Slides, Amusement Park Rides, and Santa
Get can't-miss family activities sent to you!
Get the Best Kid-Friendly Activities
Sent to You Weekly!
The Rides at Land of Make Believe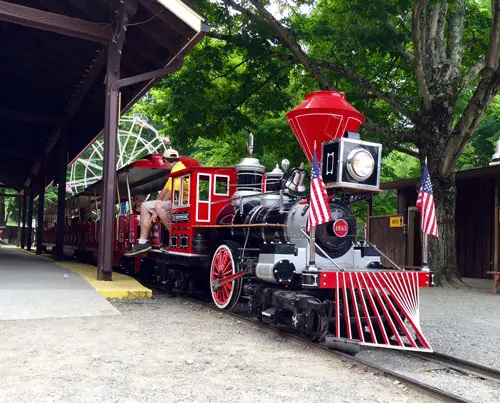 After an ice cream break and changing into dry clothes we ventured over to the amusement ride section. We decided to ride the train, which runs the perimeter of the park, to see everything the park offers. The kids loved this open-air miniature steam locomotive. We saw all 15 of the rides, went through a tunnel, then rode around the outside of the whole water park. Once we pulled back into the station we picked up our strollers and visited every ride in the dirt lot. Nothing was too scary and the 4 year olds were big enough to ride everything. I accompanied them on most of the rides, only to be part of the fun. Our favorites were the Tilt-a-Whirl and the Thriller, the park's only roller coaster.

More Fun at Land of Make Believe
We took a quick stroll through the petting zoo, which has a cow, rabbits, and a couple of little lambs. We also took a walk around the Land of Make Believe Mining Company, where you can purchase stones and then mine them out of a mining trough. Lastly we walked through Santa's Barn. The kids loved walking through the chimney to access a stairwell that takes you upstairs to Santa's summer house. We didn't take the time to sit on his lap, but those who did walked away with free cookie cutters. There is also a pizza place, gift shop, and ice cream parlor inside.

Tips for Visiting Land of Make Believe
Bring towels, sunscreen, hats, and sunglasses.
Ride the train first to see everything. Then visit the water park. End with the rides.
Life jackets and flotation devices are not allowed. (Kids must be accompanied by an adult in the pool, which is only 18 inches at its deepest.)
Coolers are not allowed, but you can bring in food and drinks.
The food available for purchase is good and very inexpensive.
The park is best for ages 2-8 but could go up to 11 since they've recently added some new high thrill slides.
Kids under 2 are free.
The park is very stroller friendly.
It has many bathrooms and changing areas.
Parking is free.
All attractions once inside are free except the mining activity.
RELATED: Get notified about all the best local kids' activities.