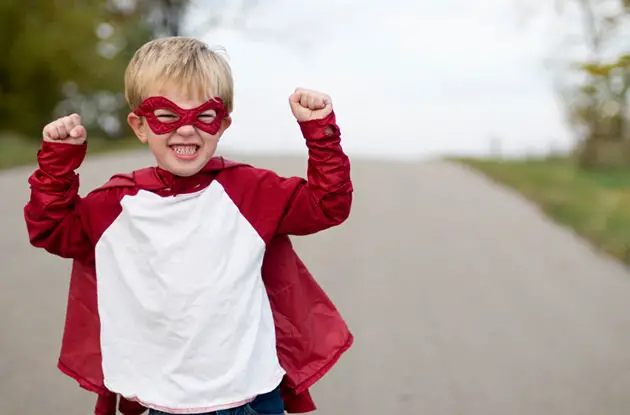 6 DIY Halloween Costumes on a Budget
Get can't-miss family activities sent to you!
Get the Best Family Activities
Sent to You Weekly!
Raining Cats & Dogs: This costume is super cute and fun to make. There are two routes for this costume. The first, take a clear umbrella, and place cat and dog stickers on the clear umbrella; pair it with your kid's favorite raincoat and boots. For the second option, take a few stuffed animals of cats and dogs and glue them to the umbrella and your kiddo will be the talk of school with their creative outfit.
Deep Sea Scuba Diver: This is a great out-of-the box costume idea and easy to make with existing items. What you will need for the scuba gear: goggles, wet shoes, and black gloves. Pair this with a black hoodie or long johns for underneath the accessories. For the air tank, take two 2-liter Coke bottles, and paint them silver or yellow. Duct tape them together and glue them to the back of a black sweatshirt. To add a finishing touch, you can use a tube or cord and cut a hole in the bottle and attach the cord to one side of the shoulder.
Little Piggy: Take an old pink sweatshirt (2-3 sizes larger than your child), cut the arms and hood off. Sew or glue the edges showing to make a clean look for the arms, head and bottom. With the extra fabric and hood, you can make a hat and ears to pin to the hood. For the nose you can paint on the pink, purchase a nose or cut a toilet paper roll and attach string for around the head. Pair this with pink pants or tights and a pink long sleeve undershirt.
Other Animals: Follow the little piggy instructions above. Animals are super simple to make with existing items around the house. All you need is a sweatshirt that is cohesive with the animal's color you are choosing, and extra fabric to glue for the specific markings of the animals. Take old tights, pants, or play clothes to pair with, purchase a nose, ears, and face paint, and you are set to DIY an adorable costume.
Here at NYMetroParents, we've got everything you need to have a safe, fun, and festive fall and Halloween season. Whether it is pumpkin or apple picking, getting lost in a corn maze, making Halloween crafts or finding costumes and decorations, we're here to help.