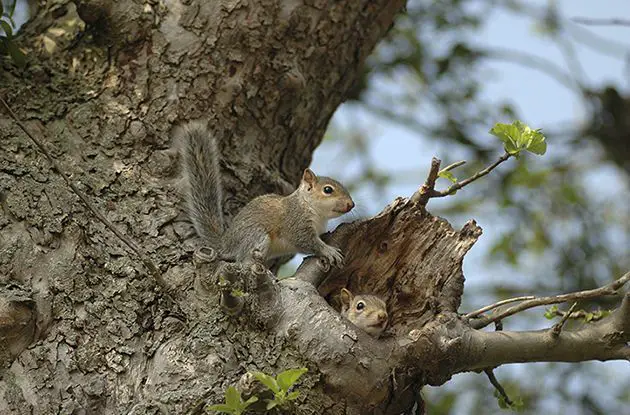 Not on My Watch!: On Courage and Parenting
Get kid-friendly activities sent to you!
Get the Best Kid-Friendly Activities
Sent to You Weekly!
Now that I am a daddy of a 3.5-year-old and a newborn as well, I've garnered more than a few grey hairs over the well-being of my children. I can't count the number of times I've intervened à la Ol' Mama Squirrel on behalf of my son. During his flinging-himself-down-the-stairs phase, I kept him from flinging himself down the stairs. During his letting-bigger-kids-steal-his-toys-and-then-crying phase, I got his toys back. During his pulling-the-furniture-down-on-his-head-phase, I held the furniture up.
All of us parents do this: keep our kids alive until they know better. Mama squirrels keep their babies from walking off a branch. We keep them from eating cigarette butts in the playground. At some point, Sammy stopped flinging himself into space, relinquishing his toys, and pulling things down on top of himself. As a matter of fact, he's a pretty cautious little dude. I'm usually the one pushing him to try the bigger slide, or get on the carousel. Lately, when he takes a fall on his scooter, he reflexively says, "I'm OK!" before we can ask. I'm thinking this could be a sign of too much parenting. Us mama and papa squirrels have to let go sometimes.
After all, there is something to be said for being allowed to make your own mistakes. I know this is true because whenever I do stop urging, he goes ahead and jumps in the sprinkler or climbs the big-boy ladder. When he first got his scooter he refused to ride it. Then after a couple of months, he went to the closet on his own, took it out, and taught himself how to use the brake. Now he's riding every day. After a while, the same cheeky spirit I had as a clothes-hanger-wielding 3-year-old always kicks in for my son. He realizes his own potential and I can step back and watch…ready to start chucking acorns at the bad guys if need be.