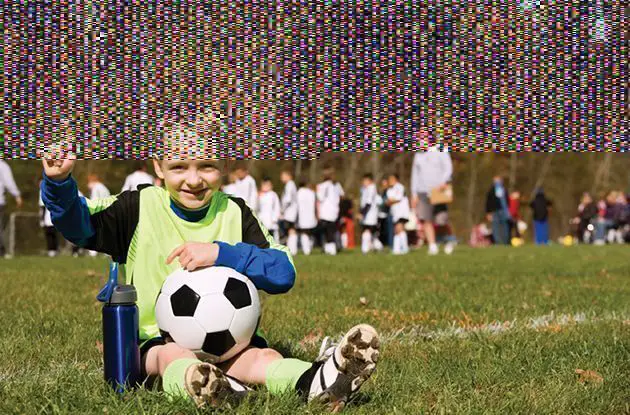 Nutrition Tips for Young Athletes
Get family activities sent to you
Get things to do with your kids
Delivered right to your inbox
Limit sweet, sticky foods and foods that dissolve slowly in the mouth to decrease the risk of tooth decay. Frequent snacks that contain simple sugars can also promote tooth decay. Certainly carbonated sodas, sugary juice drinks, and even many sports drinks have a high sugar content. Gum, lollipops, hard candies, and jellybeans not only dissolve slowly, they easily get stuck in teeth. Likewise, snacks that contain caramel or marshmallow are culprits.
Keep an eye on portion sizes. Between school and sports, children are quite active, so snacks are an important part of their day. Snacking staves off hunger and provides them with energy. It is important to offer them foods that are nutritious and that are in portion sizes appropriate for their age.
Tackling Temptation
Maria Flores's 10-year-old daughter Cristina has been playing for Pelham's youth softball league for the last two years and, in both the spring and fall, parked right alongside the field is the ubiquitous ice cream truck. As if that weren't difficult enough to avoid, other parents often come to practice and games with bags of fast food, cookies, donuts—sometimes just for their own child, sometimes to share.
Flores didn't want to look like the "bad" parent who always said "no" to junk food, but she wanted to encourage and teach her daughter and younger son Dante, who tagged along to games—both of whom were struggling with their weight—to make healthy choices.
When children are of school age, it is the opportune time to teach them the importance of healthful eating habits. Eating behaviors they learn now are more likely to stay with them into adulthood.
Flores and I chose to present Cristina and Dante with a compromise: As long as they actually eat the more nutritious snacks, they can choose a not-so-healthy snack. The children came up with a list of healthy snacks they enjoy such as strawberries, slices of turkey rolled up in a tortilla, low-fat cheese sticks, pretzels, baby carrots with ranch dip, and a mix of raisins, nuts, and chocolate chips. If they have any of these, they may also have a cookie, another sweet, or even occasional ice cream. The objective is to not have the kids feel deprived or, in a sense, punished, thereby making the junk food less desirable.
I also suggested Flores talk with the other parents. Perhaps they actually prefer their children to eat healthier snacks but just grab the most convenient food they know their child will eat. Or maybe they find it easier to indulge their children rather than encourage them to eat something more nutritious. However, knowing they have the support of other parents may motivate them to enforce better habits.
The good news for concerned parents whose younger children are now participating in sports or engaging in regular physical activity is that they do not need to provide them with a special diet. Nor do the kids have dramatically increased nutrient needs. By simply providing your little athlete with a balanced diet that follows the recommended guidelines (such as those that can be found on choosemyplate.gov), and offering them a variety of healthful foods from all the food groups in serving sizes appropriate for their age, you can be assured they will have plenty of fuel while also getting the adequate nutrition to support their growth and development.
More Nutrition Tips
Got an active teen in the house? Read Werner's tips on fueling teenage athletes.
Robin Werner MS, RD, sees clients of all ages in Manhattan and Westchester. She lives in New Rochelle with her husband, Greg, and their three very active young children. For more information, visit wernernutrition.com or "like" the Robin Werner Nutrition page on Facebook.
Also see:
Sports Injuries in Kids and How to Prevent Them
Want more content like this? Receive our Scoop packed with great ideas