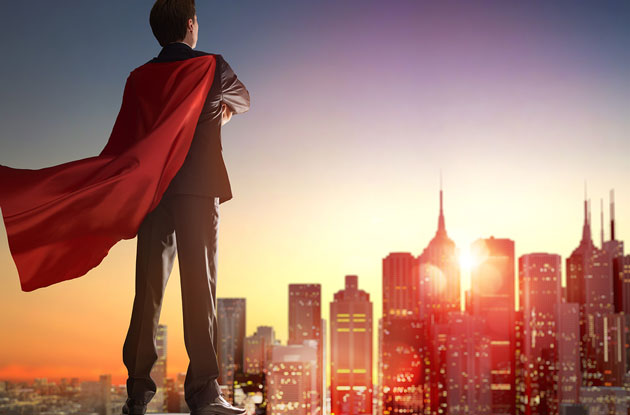 New York Locations Made famous by Superheroes
Get kid-friendly activities sent to you!
Get the Best Family Activities
Sent to You Weekly!
NY Daily News Building
220 E. 42nd St.
Think back to when Christopher Reeves was Superman/Clark Kent. The NY Daily News Building was the site for the movie's Daily Planet newspaper, where Clark Kent worked along with Lois Lane. The lobby of this skyscraper building has a huge world globe which is a sight to see. Take your kids (and their alter-egos) to see this landmark in the Turtle Bay area of Midtown.
MetLife Building
200 Park Ave.
This 58-story skyscraper is located above Grand Central Terminal in the heart of Midtown Manhattan. When it was called the "Pan Am" Building, it was featured in The Avengers as the "Stark Tower." While you won't see Tony Stark during your visit, you and the family can check out its retail shops, restaurants, and notable masonry, and raised quartz crystal façade. There is direct access to the terminal for easy access to the building.
Joe's Pizza
7 Carmine St.
If you're in town and hungry for a slice, check out Joe's Pizza, a neighborhood gem since 1975. The restaurant was featured in Spider Man 2 as the 29 minute pizza delivery joint. Hey, even Spider Man longs for NYC pizza every so often!
The Frick Collection
1 E. 70th St.
Marvel Comics creator, Stan Lee used the impressive façade of the Frick Museum to inspire his imagination for The Avengers mansion in the Marvel universe. Stop by and see the Old Master paintings and European sculptures. There's also a library on site as well as lectures, music, and educational programs throughout the year.
Times Square
Broadway and Seventh Ave. between 42nd and 47th Streets
Times Square is full of excitement, so it's no wonder it has been featured in super hero films. One example is when in Superman 2, Superman has an epic battle with Zod in Times Square. There was also a fight between Superman and Electro in this spot as well. In the first Spider Man film, Spider Man and The Green Goblin go at it in this heart of NYC too. Your visit will be battle-free of course! Check out the giant billboards, the amazing lights, fun restaurants and shops, and even a Broadway show. The fun never ends in this section of the city!
Check out our Family Activities Calendar for fun things to do near you!
Flatiron Building
23rd Street and Broadway/Fifth Avenue
Do you recall the Spider Man movie where Peter Parker works at the Daily Bugle as a photographer? The building that's used is the interestingly designed Flatiron Building. The grand scope and shape of this building makes it a sight not to be missed on a tour of NYC. It is 22 stories tall, with steel framing. There are plenty of restaurants and shops nearby to stop in after admiring the landmark.
Delancy & Essex Streets
Head over to Delancy and Essex Streets to check out the area in the Fantastic Four that The Thing calls "Yancy Street." This Lower East Side location is given a shout out in the film thanks to the humor and terminology inspired by the area. While in the neighborhood, check out some local attractions such as delis and cafes, bookstores, restaurants, trendy hotels, and more.
New York Stock Exchange
Broad Street and Wall Street
While you'll need a permit to go inside, head over to see the grand building that houses one of the world's leading financial markets. NYSE was featured in The Dark Night Rises when Bane storms the building in a heated action scene. It is also in the film where Batman and Bane have their ultimate battle with the police.
Dumbo Power Plant
John Street and Pearl Street
While heading to a power plant isn't a common family outing destination, it can be if you want to check out the place where the final battle between Electro and Spider Man went down in The Amazing Spider Man 2. The plant's been closed for a few years, but it is still a dramatic element to the film that can be seen from the Manhattan and Brooklyn Bridges.
Brooklyn Bridge/Manhattan Bridge
If you've seen The Amazing Spider Man 2, you'll recall this bridge as the place where Mary Jane and Peter Parker profess their love. Additionally, the bridge was featured in The Dark Knight Rises to prevent people from exiting Gotham.
Sign up for our newsletter to receive the latest updates on fun events and other family activities in your area.