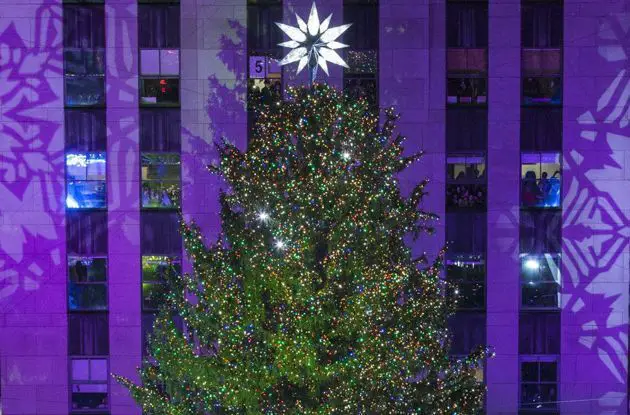 Here's Where to See the Best Tree Lightings in NYC, Long Island and Westchester
View the most spectacular Christmas tree lighting ceremonies in NYC and its surrounding suburbs.
Get can't-miss family activities sent to you!
Get the Best Family Activities
Sent to You Weekly!
WHEN: Friday, Dec. 3, 3pm
WHERE: HopeNYC Church, 142-82 Rockaway Blvd., Jamaica
WHAT: Be there when the Christmas season officially kicks off with the lighting of the largest Christmas Tree in Queens!
WANT TO GO? Free. This is part of a three day Holiday celebration.
WHEN: Saturday, Dec. 4, 12-5pm
WHERE: Queens Botanical Garden, 43-50 Main St., Flushing
WHAT: Celebrate the best of December with free live musical performances, a tree and menorah lighting, holiday crafts, a tree tour, selfies with Santa (donations welcome), and sales at the QBG Shop! Enjoy a selection of beverages at the Holiday Bar for purchase.
WANT TO GO? Advanced registration required. $10 parking fee. 718-886-3800. queensbotanical.org/winterwonder
WHEN: Sunday, Dec. 5, 3-4:30pm
WHERE: Astoria Park Lawn, 19th Street and 23rd Avenue, Astoria
WHAT: The event will feature balloon art and special holiday performances by Music For Aardvarks, Academia de Mariachi Nuevo Amanecer, and carolers...and of course, the tree lighting!
WANT TO GO? Free.
WHEN: Sunday, Dec. 5, 3pm
WHERE: Great Lawn at Astoria Park, 19th Street and 23rd Avenue, Astoria
WHAT: This free, fun and traditional holiday event that will bring balloon art, kids hand tattoos and special performances by Academia De Mariachi Nuevo Amanecer, Music for Aardvarks and Christmas Matters Holiday Carolers. Don't forget to bring your letters for Santa and receive a Teddy (while supplies last)!
WANT TO GO? Free.
Tree Lightings on Long Island
WHEN: Saturday, Nov. 27, 12:30-6pm
WHERE: Wantagh Preservation Society, 1700 Wantagh Ave., Wantagh
WHAT: Enjoy shopping, food, entertainment and see the holiday lighting.
WANT TO GO? Free.
WHEN: Saturday, Nov. 27, 3pm
WHERE: Marcus Christ Hall, 1420 Jericho Turnpike, New Hyde Park
WHAT: Enjoy a magic show, crafts, Christmas carols and the lighting of the tree!
WANT TO GO? Free.
WHEN: Friday, Dec. 3, 6-10pm
WHERE: Veterans' Memorial, corner of Bedford, Broadway, and Pettit avenues, Bellmore
WHAT: Enjoy an Old Fashion Christmas! Festivities will include: Christmas Tree Lighting (7pm), A Visit from Santa, Live Nativity, Festive Holiday Music, Horse & Carriage Rides (6-9pm), Trolley rides through the community (6-10pm), and Refreshments.
WANT TO GO? The Extravaganza is free to attend. Slight Fee for Horse & Carriage Rides and Trolley Rides
WHEN: Saturday, Dec. 4, 4:30pm
WHERE: Village Community Center, 360 Post Ave., Westbury
WHAT: Join neighbors and friends at this Holiday Celebration. Refreshments will be served (OUTSIDE) as the Mayor, Board and Village Staff welcome everyone. The Atlantic Wind Symphony Band is scheduled to perform seasonal music for your enjoyment. Music will fill the air followed by the lighting of the Village Christmas Tree.
WANT TO GO? Free.
WHEN: Saturday, Dec. 4, 3-7pm
WHERE: The Shoppes at East Wind, 5768 Route 25A, Wading River
WHAT: Stop by to put a letter in Santa's mailbox, enjoy the live DJ and dancing, and more holiday fun including holiday shopping at Winter Fest. Santa arrives on a Fire Truck to light the tree and take free photo with families.
WANT TO GO? Free. Rain Date Sunday, Dec. 5.
WHEN: Saturday, Dec. 4, 5pm
WHERE: Village of Malverne, Francis Street, Malverne
WHAT: See the Holiday Parade with Santa and his elves beginning on Francis Street with Live entertainment and block party along Hempstead Avenue and Church Street.
WANT TO GO? Free.
WHEN: Saturday, Dec. 4, 5-7pm
WHERE: Cold Spring Harbor Fish Hatchery & Aquarium, 1660 Route 25A, Cold Spring Harbor
WHAT: Watch as Santa Claus lights the Hatchery's Christmas Tree.
WANT TO GO? $10 suggested donation per family.
WHEN: Sunday, Dec. 5, 12-6pm
WHERE: Stony Brook Village Center, Main Street on the Harbor, Stony Brook
WHAT: Vote for your favorite tree in the 42nd Annual Holiday Tree Competition; Legends & Spies Puppet Procession; Santa will listen to children's wishes; Holiday Train Display at Wiggs Opticians; Carolers and live music before the Holiday Tree Lighting at 5:30pm on the Village Green.
WANT TO GO? Free.
WHEN: Friday, Dec. 10, 6pm
WHERE: Holtsville Ecology Site, 249 Buckley Road, Holtsville
WHAT: The Brookhaven Town Tree Lighting will feature costumed characters; complimentary hot chocolate and candy canes; local musical entertainment; and a special appearance by Santa Claus, who will arrive by helicopter, and then assist with the countdown to light the tree.
WANT TO GO? Free.
WHEN: Sunday, Dec. 12, 5-7pm
WHERE: Greenland Landscape and Nursery, 292 Town Line Road, Commack
WHAT: Mr. and Mrs. Clause will be making a special appearance and will be camera ready. Drop off your letters to Santa Claus. Enjoy hot cocoa & coffee will be served to warm up the evening, raffles and Christmas music, too! @Somethingsweet_li will be selling her famous festive cookies and Costalino Crafts will be selling her handmade with love crafts.
WANT TO GO? Admission is free, but Greenland Nursery kindly asks to bring an unwrapped toy for the children in need.
Tree Lightings in Westchester
WHEN: Saturday, Nov. 20, 6-8pm
WHERE: Cross County Center, 8000 Mall Walk, Yonkers
WHAT: Have a real NYC Christmas experience right in the heart of Yonkers with the lighting of the largest holiday tree in Westchester! Standing over 40 feet tall, the tree is composed of over 20,000 LED lights (about 2 miles of strands!) that shoppers can walk-thru! The tree lighting includes live musical and dance performances, the pop-up ice skating rink with special characters, strolling entertainers and an electronic train ride.
WANT TO GO? Free.
WHEN: Sunday, Nov. 28, 6pm
WHERE: St. Luke's Episcopal Church, 68 Bedford Road, Katonah
WHAT: Join the community for a Tree and Menorah Lighting.
WANT TO GO? Free.