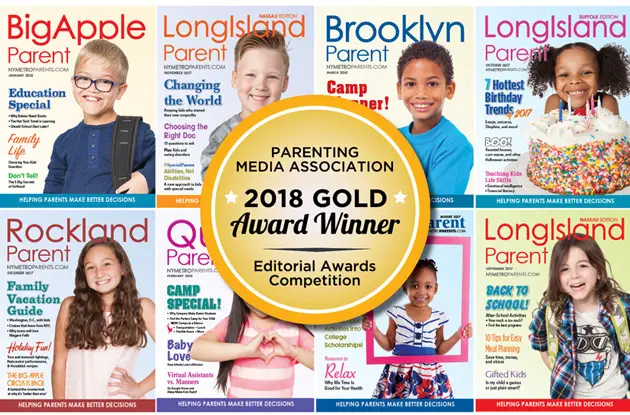 NYMetroParents Wins 8 Awards At the 2018 Parenting Media Association Banquet
We're proud to announce that our print magazines and website received eight awards for editorial and digital excellence.
Get kid-friendly activities sent to you!
Get the Best Family Activities
Sent to You Weekly!
SILVER: "Personal Essay": Powerful Tunes, by Michaela Searfoorce
Judges' comment: This is a magical story about a mother who discovers a place where her autistic son can learn to love and perform music. It begins with her frustration and ends with her son's triumph, using pitch-perfect pace and delivery. The reader is left to savor her gratitude, as well.
BRONZE: "Best E-Newsletter": NYMetroParents Weekend Planner
Judges' comment: This event-driven newsletter separates entries based on day and geography, making it easy for readers to choose what's most attractive to them at a single glance. It is notable for its concise, strong writing. While the words are few, they include strong verbs that all generate a call to action.
BRONZE: "Best Website": NYMetroParents.com
Judges' comment: A recent redesign on NYMetroParents has left editors with a clean, creative, and fun site to populate with resources that serve parents in the region well. The use of icons as a primary navigation bar is unique and works well to create a visual connection between topic and content. This publication has such a large coverage area, the choice to break it down by region makes finding calendar and directory information easy as pie.
BRONZE: "Special Series": Me Time: Battling Burnout, by Katelin Walling and Extracurriculars vs. Extra Downtime, by Rosalind Muggeridge
Judges' comment: In today's hustle-and-bustle world, we all need to be reminded how important it is to take some time for ourselves. This pair of stories offers insightful advice on how to make sure parents and children do so.
Related links: Sign Up Now for the Weekend Planner Newsletter