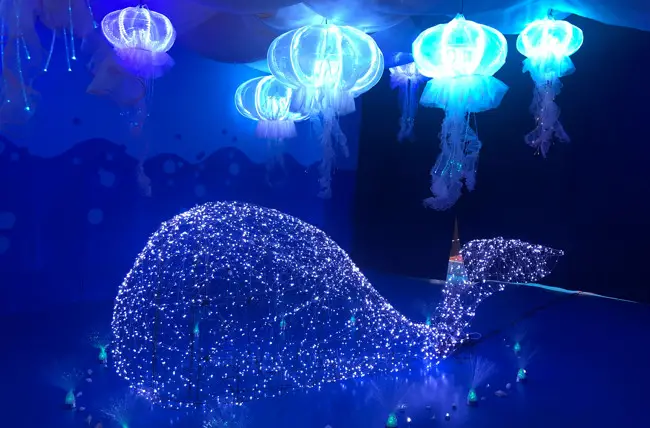 Ocean Cube Exhibit Educates Families on How Everyone Can Help Save Our Oceans
The pop-up features five rooms that all repurpose plastic to fit their themes.
Want more family activity ideas?
Get things to do with your kids
Delivered right to your inbox
The final room, "Recycle Bank," features dozens of plastic bottles that are a little overwhelming to push through. In the middle of the ceiling, a shark figure hangs, unable to escape. The density of plastic in the room is meant to help guests understand how animals must feel trying to move through our polluted oceans. All of the plastic in the room was destined to be trash, but Ocean Cube pulled the bottles from the waste cycle to make them into something totally different–and encourages families to do the same.
"We hope that you use this time to reflect on your own habits, and create some change," the placard reads.
Leah Giles, who welcomed visitors to Ocean Cube, said that while individuals need to do their part in conservation, talking to people in power is the most efficient way to create change.
"It shouldn't be up to the consumer to make the right choice [with their plastic]," she said. "It should be up to the brand. It takes the entire government to bring that type of change."
Main Image: In the "Jellyfish Station" room, whales and jellies serve as modes of transportation. Courtesy Jacqui Neber
RELATED: Check out more summer activities for families in NYC
Want more content like this? Receive our Scoop packed with great ideas