How to Suck the Fun Out of the Holidays in 8 Easy Steps
Don't put the ho-ho-hum in the holiday season!
Get family activities sent to you
Get things to do with your kids
Delivered right to your inbox
5. Decorate your home with lots of "don't-touch" holiday objects, then get upset when your child breaks one (or worse, get scared when he ends up hurting himself).
Instead: Learn how to keep your home festive, but hazard free.

6. Drag your children to a nighttime holiday religious service, then feel embarrassed when they can't keep it together.
Instead: Look for a "family" service, where kids are welcome and a certain amount of squirminess is permitted.

7. Pressure your kids to give hugs and kisses to family friends and relatives they barely know.
Instead: Remember that kids, like adults, have the right to decide whom they want to be cozy with. If your child doesn't feel like it, ask him to give a simple wave or say a friendly hello. Really young kids may not even be able to manage that much, but it's okay; the adults around them will almost certainly understand.

8. Go into debt making this "the best holiday ever."
Instead: Create a reasonable budget and stick to it. You'll start the new year feeling refreshed—not impoverished.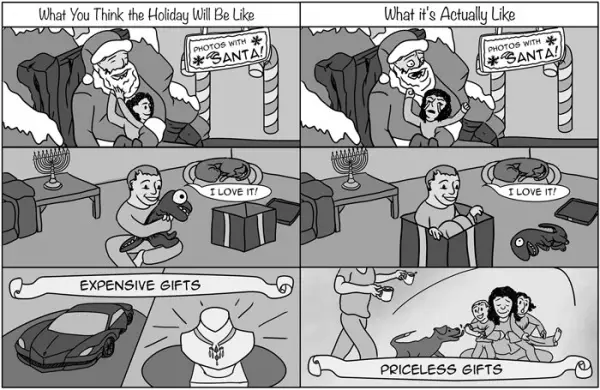 Want more content like this? Receive our Scoop packed with great ideas