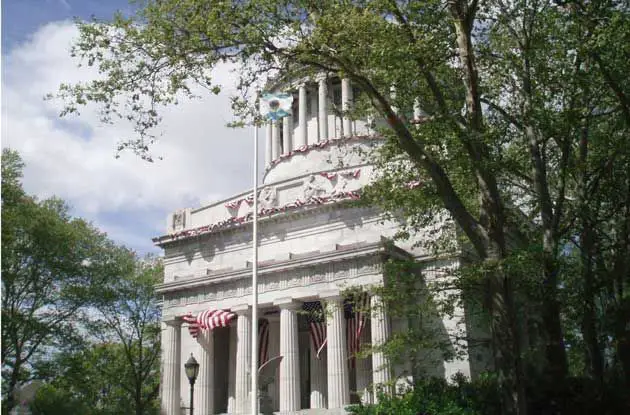 Visit These Presidential Landmarks in the New York Area
These landmarks are worth a visit to celebrate our country's leaders.
Plan Epic Summer Outings - Get Activities Sent to You!
Never Hear "I'm Bored!"
Activities Sent Weekly
Presidential Landmarks Long Island
20 Sagamore Hill Road, Oyster Bay
516-922-4788
What to Know: Park grounds and walking paths are open. Masks required. The Theodore Roosevelt home, Old Orchard Museum, and tours are currently closed.
Pay homage to the 26th President of the U.S., Theodore Roosevelt. He lived at Sagamore Hill from 1885-1919. The home was referred to as his "Summer White House." While you're here, tour the lovely surroundings, check out the museum, and visit the cemetery.
Huntington Historical Society
209 Main St., Huntington
631-427-7045
What to Know: The antiques and collectibles shop is open to the public. Masks are required inside and around the property.
There's so much to do and see at the Huntington Historical Society. Its libraries and archives hold a plethora of historical artifacts, portraits, exhibits, and more. Visit the museum shop to collect souvenirs and see lectures and programs that are family-friendly.
Presidential Landmarks on Staten Island
The Conference House Museum - Currently closed
298 Satterlee St., Tottenville
718-984-6046
Reimagine history at the National Historic Landmark, the Conference House. The site was built in 1680 by a British naval officer and was the sight of a major peace conference attempting to end the Revolutionary war. The house sits on a 267-acre park.
Presidential Landmarks in Westchester
Hastings Historical Society
407 Broadway, Hastings-on-Hudson
What to Know: Open to the public by appointment only. Masks and social distancing required.
This riverside village was incorporated in 1879 and the Hastings Historical Society preserves the artifacts and other historical memorabilia from the region, which makes it a great way to honor war veterans, first responders, and U.S. history this Presidents Day.
Elijah Miller House - Call ahead
140 Virginia Road, White Plains
The Elijah Miller house was used as George Washington's headquarters during the Revolutionary War's Battle of White Plains. It is now a museum that is open to the public, and has been undergoing renovations since 2017. It reopened just in time for the anniversary of the Battle of White Plains this past October.
Jacob Purdy House
60 Park Ave., White Plains
What to Know: Open by appointment only. Call or go online to schedule.
Another one of George Washington's headquarters, this time during the Battle of White Plains, is now the location of the White Plains Historical Society. You can also visit the Jonathan Purdy Cemetery, whose headstones are undergoing renovations.
Presidential Landmarks in Rockland County
The DeWint House - Call ahead
20 Livingston St., Tappan
Touted as the oldest surviving structure in Rockland County, this Colonial Dutch house was George Washington's temporary headquarters on four separate occasions during the Revolutionary War. The house has been restored to look like it did when Washington utilized the space, and the Carriage House is used as a museum and visitor center with exhibits including documents and artifacts from Washington's stays.
Presidential Landmarks in Dutchess County
Franklin D. Roosevelt Estate - Currently closed
4097 Albany Post Road, Hyde Park
Visit the home of the 32nd President, Franklin D. Roosevelt, an estate that features the FDR Presidential Library and Museum as well as the Roosevelt Home Garden.
Presidential Landmarks in Orange County
Washington's Headquarters State Historic Site
84 Liberty St., Newburgh
What to Know: The museum and headquarters are open by appointment only; call to make a reservation. Masks and social distancing required.
The nation's first public historic site once served as George Washington's headquarters and is famously the place where Washington rejected the idea of American monarchy. It is also where the Badge of Military Merit, forerunner of the Purple Heart, was created.
RELATED: Subscribe to our newsletter to get the weekend's best events sent straight to your inbox!
---
Want more content like this?
---