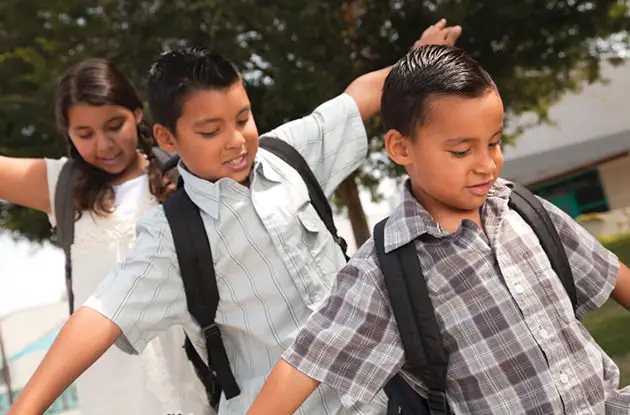 September Strategies to Start the School Year Right
Get kid-friendly activities sent to you!
Get the Best Kid-Friendly Activities
Sent to You Weekly!
What are the best departing words a parent can say to a child before she leaves for school?
When departing with your kids I would say it is important to say "See you later," "Have a good day," "Have fun," and "We will review how our day went later." This will be something your child can look forward to. With younger children, put a little note in their lunchbox that says "Have a nice day," "Have fun," "Mommy loves you," etc.
Then later, at dinnertime, I cannot emphasize enough the importance of this: Eat with your children. If you come home too late, maybe eat while your kids have dessert or do their homework. It's important to spend time with your children in the evening.
How can parents save money when it comes to buying back-to-school items such as school supplies and/or clothing?
Try to do some bargain hunting and shop ahead of time. Take a look at what you have and put it all together. Sometimes I am looking around my house and realize, "Wow, I never need to buy a pen or pencil ever again." Look around at Wal-Mart, Target, or any one of those big stores [but] stay clear of too-cheap items, because in the long run they really won't save you any money.
In terms of new clothes, do a swap! How many of your friends do you have with kids who have worn their jackets maybe one or two times? Get your group of friends together, have some tea, and have a clothing swap. It could be fun!
Do you suggest making lunch at home or giving out lunch money?
Sometimes you don't have a choice, but honestly, I think it comes down to personal preferences in terms of what you can do and what you can manage. It's not that hard to pack a school lunch. While you're making breakfast, like a quick egg sandwich, you can throw a lunch together. You can also do it the night before. If it's important to you that your son or daughter gets a certain nutritious lunch and you want them to have the whole grain bread with the organic turkey and the organic apple and the organic milk, you're probably not going to get that at school. If you feel like what they are serving at school is good and that it's nutritious and you want your child to have that, do that. It's whatever works for each family.
What homework wisdom can you offer, especially during the transition from summer to school?
Again, it's that preparation ahead of time. My son gets reading lists, and a lot of schools do that now, even schools with young children. You don't want your child to spend all summer not even opening up a book because what happens come September? You have a very rude awakening. It is a very good thing to develop a love of reading and a love of books and learning. Find what your child is interested in. You can go to a museum or do other fun family activities where you can discover things together. Go take a walk through nature and talk about foliage or go visit the aquarium. If you can squeeze in a few of those things and get your child a book about them you'll build your child's interest in those things.
Then, as school gets closer and closer, say "Now why don't you see if you can finish these chapter books." Maybe have them read at a level a little bit higher than they were already at. You can also do drills. You don't want to drill them over for days and days because that's not fair, but it is something you can do consistently throughout the summer.
Since it's impossible to be everywhere at the same time, how can parents manage which of their children's after-school activities they should go to without spurring sibling rivalries or acquiring a guilty conscience?
Chances are [your kids] are going to be at two different places and be doing two different things. For example, a 10-year-old is going to be doing way different activities than a 5-year-old. Have one parent do one duty and the other parent do the other. Divide it up and make it as fair as possible so that one child doesn't get one thing all the time. Even if you have one parent as a coach or a dad that really loves baseball, make sure the daughter who does figure skating doesn't get the short end of the stick. It is important that kids get support from both parents.
Is there something you have discovered many parents worry about needlessly?
I think that sometimes they worry that they are doing the wrong thing. We spend a lot of time and energy second-guessing ourselves when we really should just trust our own instincts. If you feel like something is not right and that you should call a doctor, or that your child does not want to do something, don't convince yourself that everything is fine and suppress your own instincts.