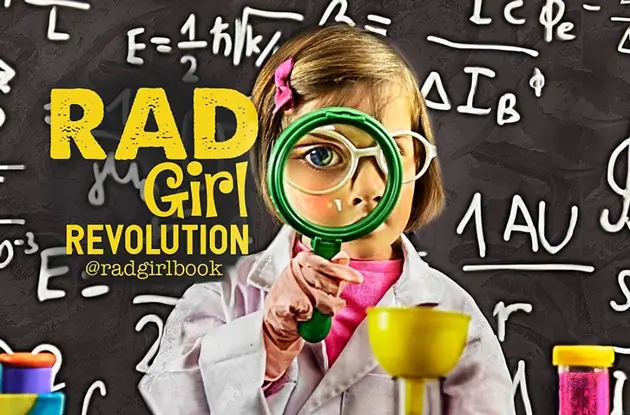 Queens Girls Dream Big with 'Rad Girl Revolution'
Learn more about this inspiring book for girls!
Want more family activity ideas?
Get things to do with your kids
Delivered right to your inbox
Adds Sanchez: "Luna enjoyed her photoshoot; she liked touching the equipment and walking around in clunky boots—she didn't want to give them back! Wearing the fire gear and having her photo taken made her feel special."
More than anything, Forest Hills mom Farah Lyner loves "the spirit" of Rad Girl Revolution. "It's at once daring, fun, sassy, colorful, smart, inspiring, and inclusive. It gives kids a sense of pride and accomplishment; as you flip through the pages, you're left with a feeling of 'anything's possible' by the time the book's finished."
Lyner's daughter, Frankie, 3, has Down syndrome. "I hope when she sees herself pictured next to other girls in the book it gives her a sense of confidence and lights a fire within her," says Lyner. "Today's generation of children with Down syndrome have bright futures ahead of them as a result of hard fought battles for inclusion and educational opportunities. More and more we are seeing young women with DS become small business owners, actors, models, teachers, and, of course, artists." Frankie portrayed an artist in her Rad Girl photo; her shoot was held at Little Pulp, a collaborative art and printmaking workshop for kids located at The Shops at Atlas Park in Glendale, Queens.
On April 5th, Manickam and Bruno launched a $15,000 Kickstarter campaign for the publication of Rad Girl Revolution—at press time they've reached their goal and are still accepting pledges. The book is slated for publication in the fall; the Kickstarter concludes on May 5, 2018 and funds will be used to finish the remaining photoshoots and print and ship the first 1,000 copies of Rad Girl Revolution. Currently, the book and additional rewards can be pre-ordered on Kickstarter, and the devoted mompreneurs will donate 100+ copies to a charity that distributes books to at-risk children.
"We are encouraged by the increased momentum toward gender equality, and feel that putting these images and rhymes in front of today's youth can help better level the playing field from the start," stated Manickam. Adds Bruno: "Photographing the girls in our book has been an honor. I'm able to watch these already brilliant and charismatic girls transform into fuller, more confident versions of themselves."
RELATED:
Top Events for Kids in Queens This Month
Want more content like this? Receive our Scoop packed with great ideas