Recipe: Chocolate Chip Layer Cake with Milk Chocolate Mocha Frosting
Get family activities sent to you
Get things to do with your kids
Delivered right to your inbox
4. Place a dab of frosting on a service plate. Place 1 cake layer, flat side up, on the plate. Using a metal icing spatula, spread 1 cup of the frosting on the cake. Place the second cake layer, flat side down, on top. Frost the top and sides of the cake with the remaining frosting. (The cake is best the day it is made.)
Milk Chocolate Mocha Frosting
"This icing is quick, smooth, and creamy. The mocha flavor is very mild and gives just the right touch to the cake. Even though it uses milk chocolate, it is not as sweet as you may think. I usually choose dark chocolate over milk chocolate, but this frosting is fantastic!"
Makes enough for one 9-inch double-layer cake
Ingredients
1½ pounds in high-quality milk chocolate, finely chopped
3½ cups heavy cream
6 tablespoons (¾ stick) unsalted butter, cut into ½-inch cubes
2 tablespoons instant espresso powder
2 teaspoons pure vanilla extract
Directions
1. Put the chocolate in a medium heatproof bowl. Bring the cream to a boil in a medium saucepan over medium heat, taking care that it doesn't boil over. Remove from the heat, add the butter, espresso powder, and vanilla, and stir until the butter melts. Pour over the milk chocolate. Let stand until the chocolate softens, about 1 minute.
2. Whisk until the chocolate is completely melted and smooth. Cover the bowl with plastic wrap. Refrigerate until the mixture is as thick as chocolate pudding, about 2 hours.
3. Beat the chocolate mixture with an electric mixer set on high speed, just until it becomes lighter in color and spreadable, about 10 seconds. Be very careful not to overbeat, or it will separate. (In that case, melt the mixture in a stainless-steel bowl set over a saucepan of simmering water. Cover, refrigerate until thickened, and try again.)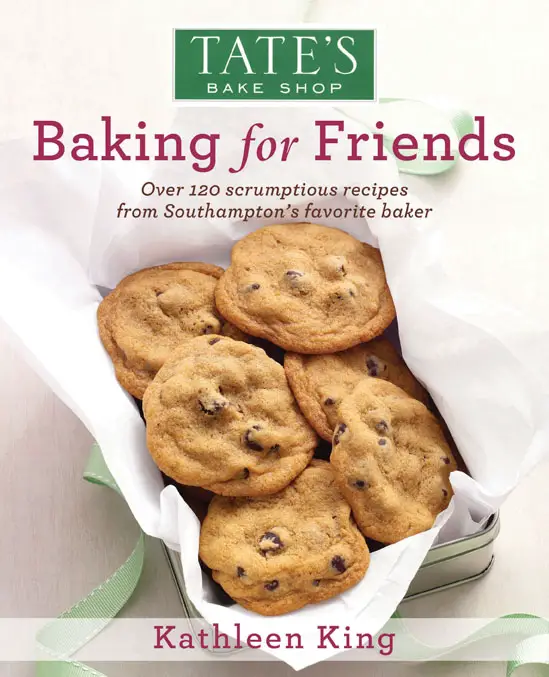 This recipe was excerpted with permission from Tate's Bake Shop: Baking for Friends by Kathleen King ($24.95). Check out King's cookbook for more than 120 great recipes, including many more delicious party cakes and cupcakes.
Also see:
4 Tips for Making Perfect Party Cakes and Cupcakes
Want more content like this? Receive our Scoop packed with great ideas