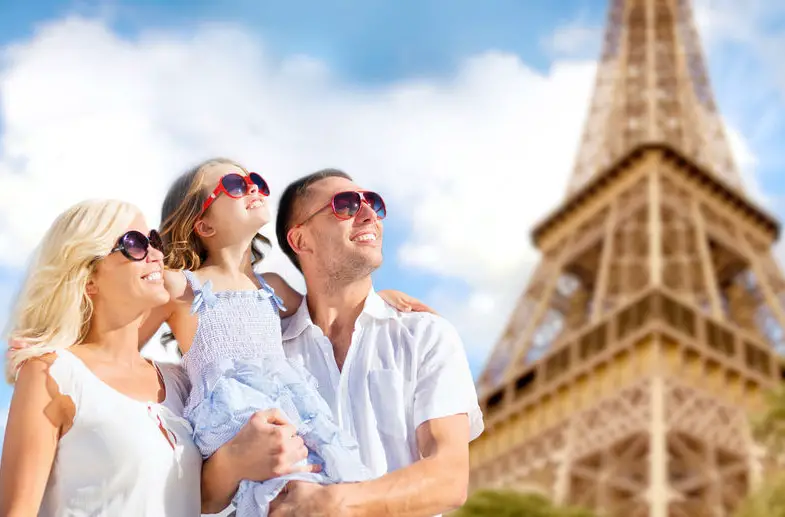 Seven Must-Do's for Families in Paris
From magnificent museums to delicious deserts, here's what will make your trip memorable.
Get kid-friendly activities sent to you!
Get the Best Family Activities
Sent to You Weekly!
5) Sleep in an oohlala canopy bed.
Now, when you go to Paris, everyone has a different opinion on where you should stay. My advice? Location doesn't matter – the Metro takes you everywhere, and remember that Paris Pass? It has an unlimited Metro ticket included. But why, why, why would anyone want to stay in some modern, Americanized hotel? This is Paris, people! We found Les Dokhans, the cutest little boutique Starwood property near the Trocadero Metro stop – I'll explain in a minute why that's awesome – and got to ride to our room in a Louis Vuitton trunk elevator (I swore it was real, my fiancé shook his head), sleep in a canopy bed, and look out at Paris from our Juliet balcony. I swear it had all been there for 400 years (I don't actually know this, and I don't think they had Louis Vuitton back then, but it felt like it).
Rooms are reasonably priced, and the floors of the hotel are small, so you'll feel safe reserving two or three for your family. And - Trocadero is the place in Paris to get a photo with the Eiffel Tower behind you. It's ginormous there. You can see the light show that happens every hour. You don't have to climb with ninety-billion tourists who want to spit from the top. Parfait.
6) Skip the hotel breakfast.
When in Paris, do like the Parisians do – as in, put on your beret, stroll down the sidewalk with your bouledogue (French bulldog, naturally), walk into any patisserie, order hot-out-of-the-oven croissants, stand at a little table with a bitter coffee, get flaky pastry all over yourself, swear that you'll never leave this amazing city. My patisserie recommendation? Fou de Patisserie, for everything from eclairs to tarts. But seriously, you can't go wrong. It's like Parisians are born with the "baking pastry" gene. They've all got it. Like tying scarves. It's a thing.
Want more ideas for dining? No problem, because we ate our way through Paris. Start at Chez Phillipe for puffy and perfect cheese and chocolate souffles – lobster and salted caramel also grace the menu. For the quintessential French roast chicken, try Dourant by Antoine Westermann - it looks fancy, with white tablecloths and candlelit hush – but the food is classic, delicious, and relaxed. And that chicken! When you're at Paris Flea, check out Ma Cocotte, and order a full, three-hours worth of baked camembert, pate, cornichons, and perfectly crispy frites. Craving crepes? In Paris, crepe carts are like hot dog trucks in New York: There's one on every corner, and they are all simply scrumptious.
7) Just wander.
One thing we love about Paris (and Europe in general) is that the city is walkable, and people really walk. They stroll. They window shop. For some bizarre reason, they always carry baguettes in their messenger bags while they do it, but you can skip that accessory. Or not. Our favorite neighborhoods? The Marais: charming cobblestones, tons of tiny shops, zillions of restaurants (all of which serve pate). The Tuileires: Gorgeous gardens, antique Paris, and a giant Ferris wheel from which you can see the whole city. St. Germain: art, and passion, and cafes in which to sit and watch the bouledogues (that's bulldogs!) walk by.
Bon voyage!