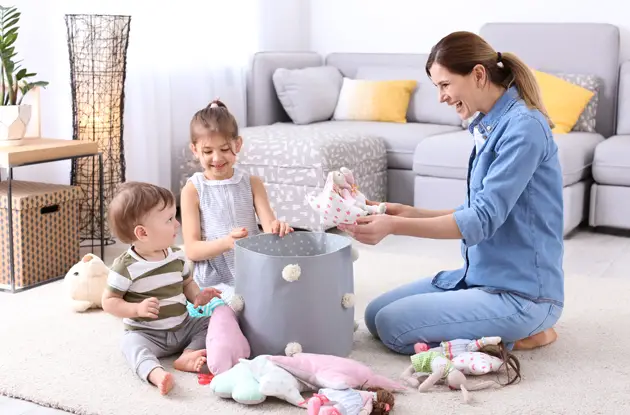 13 Ways to Organize Your Home
From kids' rooms to bathrooms and the kitchen, experts share easy solutions to keep your home clutter-free.
Get kid-friendly activities sent to you!
Get the Best Kid-Friendly Activities
Sent to You Weekly!
As for storage, consider this: "One or two baskets with handles make for good traveling toy carrying bins for when you have company over and need to take the toys out of the living room and kitchen and move them to the kids' room," Soreff says. "Often younger kids don't want to play in their room as they want to be in eyesight of the parent. These bins allow for quick clean up." The rugged Canvas Storage Cubby Tote ($34.95) from L.L.Bean might be just what you need to keep those toys from scattering.
Bathrooms can feel zen-ready
The bathroom is another room in the house that can easily become a dumping ground for everything from wash cloths and oversized bottles of mouthwash to cleaning products and bath towels. Here are three ways to transform this room into more of spa-serene space:
Baskets are everything. "Storage baskets, boxes, and crates are key ways to keep the bathroom organized," Gore says. "It doesn't matter which you use, though I prefer to use pretty baskets whenever possible. Remember: Everything that you would normally just put on a shelf, store in these instead. Then label the basket and keep like items together." And, with the Sea Grass 3 Piece Wicker/Rattan Basket Set ($41.99) from Wayfair, you can do one basket per person to keep everything organized—and stylish—too. As for keeping your cleaning products nearly stored in their own separate compartments, consider the Bee & Willow™ Home Metal Cleaning Caddy ($12.99) from Bed Bath & Beyond.
A lazy Susan isn't just for the kitchen. "These spinning trays are heaven-sent when you're trying to reach things on a shelf," Gore says. "If you have lots of supplements or lots of bathroom products, these work anywhere there are lots of little jars, bottles, or vials. One tip: Try placing one on a shelf where you haven't already implemented the basket strategy. I love the ease of reaching my products just by spinning the tray instead of knocking over everything to get to the one item in the back of the shelf."
Keep items low enough for kids to reach. "Hooks are super helpful ways to stay organized, but they have to be hung at the right level," Nevins says. "Height is important—our bathroom hooks were hung at adult size and that means our kids couldn't reach them. Low hanging hooks are key for having kids take responsibility for their stuff."
Expand whatever closets you have
If your home is closet-challenged and it seems like every time you open a closet door something falls down and hits you in the head, not to worry, say our organization experts. Here are three tips for making your closets seem spacious even if they're packed with everything from vacuums and ski equipment to winter coats and luggage.
Think vertically. "One way to maximize your vertical space is by either stacking labeled boxes or using risers on a shelf," says Katy Winter, owner of Katy's Organized Home in Chappaqua. "Risers make it possible to add a box on top or on the bottom and easily slide them out."
Use the wall. "The easiest and least expensive option to use the space you have is to use peel and stick hooks," says Jamie Novak, owner of Novak Organizing in Scotch Plains, NJ. "This allows you to hang a variety of items like statement necklaces, belts, scarves, bags, jeans by the loop."
Maximize your closet door(s). "Over-the door organizers work beautifully to give you tons of pockets where you can stash things and then find them again," Novak says. "Even if you can't use it over the door you can still hang it on a wall or from a hanger."