Interview With Randi Zuckerberg About New Pop-Up Tech Café, Sue's Tech Kitchen
Sue's Tech Kitchen, a revolutionary dining experience and Holiday SpecTECHular, recently opened at The Bridge at Cornell Tech on Roosevelt Island.
Get can't-miss family activities sent to you!
Get the Best Kid-Friendly Activities
Sent to You Weekly!
I also have two young boys and one of the ways I get them engaged in STEM topics is by cooking with them. Was that something that you thought about when you were creating Sue's Tech Kitchen?
Totally. I love baking and cooking with my sons. Baking is all math, it's one of the most mathematical things that we all do on a daily basis. We are going to have a station where you can make edible slime and we are also going to have a STEM Bar where you can go and sign up for little individual class. One example is a biology class where we will be giving kids a "miracle berry" where, if you eat it, it dulls your bitterness taste buds, so you can then drink vinegar and it will taste sweet, like sugar water. There are so many fun ways to use things you already have in your own kitchen to introduce kids to science.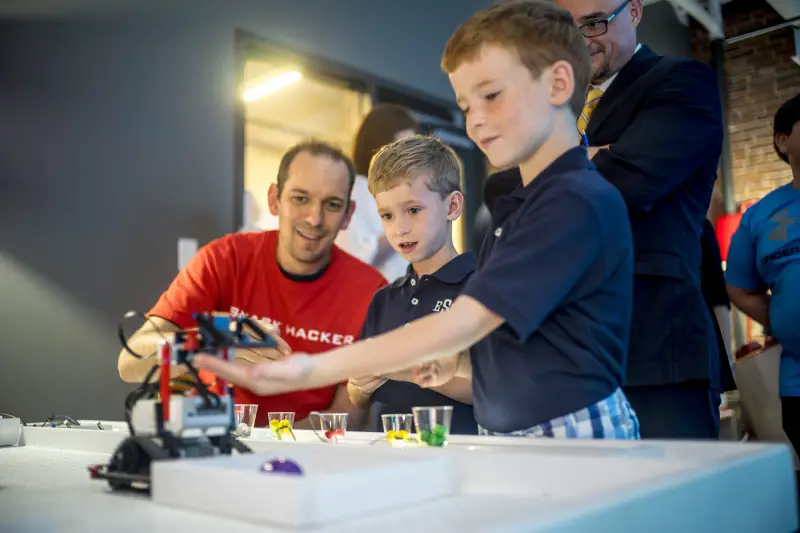 Why do you feel that it's so important to continue to encourage girls to pursue STEM education?
All of my research shows that at around third grade girls turn away from science and technology. I don't know what it is about that age. So as I've been creating my television show Dot and as I've been building out Sue's Tech Kitchen, I always have that third grade girl in the back of my head. How do I make something that's so fun that she won't turn away from STEM? Naming the pop up Sue's Tech Kitchen was a very purposeful choice, although when you walk in you will see there is nothing traditionally girly about the space, there's nothing that's gendered about it, it's meant to be a fun space for boys and girls alike. But it was really important for me to have a girl's name on a marquee so that somewhere in that third grade girl's psychology, when she's thinking about turning away from science, she will say her to herself that she went to Sue's Tech Kitchen and girls can actually do all of that.
What do you think the future of tech and media hold?
What I think is so exciting is that the jobs that our children are going to have don't exist today, which is so wild to think about. Which is why it is so important to introduce children to as much tech as possible when they are young so that they do see the world as open and full of endless possibility, because our kids are going to have jobs in AI [Artificial Intelligence] and robotics and augmented reality, that don't even exist today. So the only way that they can really know that they can have those careers is by giving them a sense of familiarity and wonder with those topics early on. Somewhere down the path when they encounter technology again in a deeper way they're not going to be afraid or overwhelmed by it.

RELATED: Girls & STEM: Overcoming the Hurdles

Main image: Kids 3-D print their own s'mores at Sue's Tech Kitchen on Roosevelt Island.
Courtesy Sue's Tech Kitchen