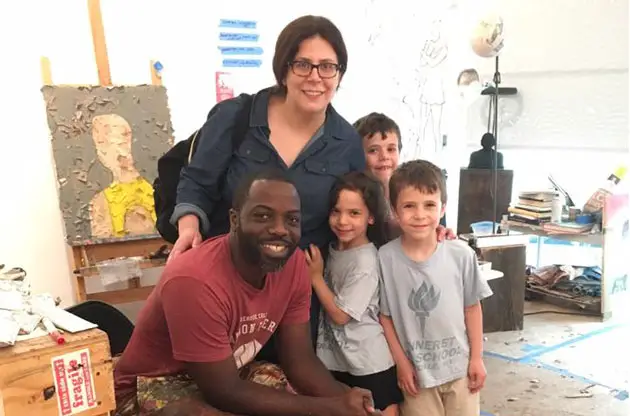 A Family Outing, a Kind Artist, and a Story That Will Melt Your Heart
Get can't-miss family activities sent to you!
Get the Best Kid-Friendly Activities
Sent to You Weekly!
He wrote: "Promises are promises."
We went today, and they opened the exhibit for us! We had a great time, and Derek met with the kids again in his studio. He seemed thrilled that his artwork had made such an impression on my guys.
And I'm thrilled that the world still contains such kindness.
NYMetroParents reached out to Fordjour, and he emailed us the following:
"I know all too well the feeling of making it to an exhibit when the museum is closed or the show is down. It hurts! Also, the fact that [Chavi's oldest], who visited my studio weeks earlier with his family, showed such interest and actually remembered the show weeks later was reason enough to invite them over. I am on residency for a year at the museum, so I actually work on-site everyday. It was a no-brainer. They made my day."
And here at NYMetroParents, this story made our day—and we hope you feel the same way!
Like us on Facebook to see more great stories about local kids' activities, or read more about Parade and Forjour's work on the Sugar Hill Children's Museum website.