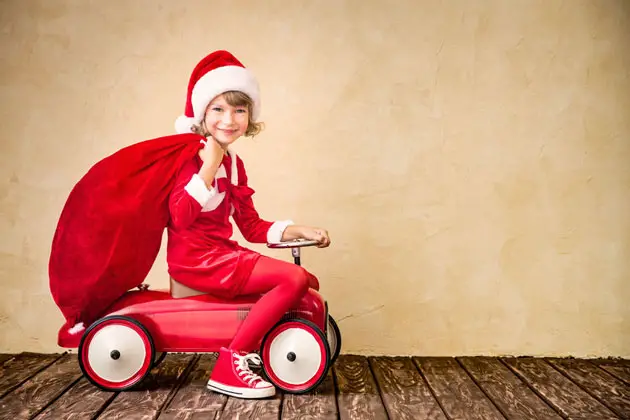 Spend Less, Enjoy Life More for the Holidays
5 ways to teach kids how to give well during the holidays.
Get can't-miss family activities sent to you!
Get the Best Kid-Friendly Activities
Sent to You Weekly!
* Know your spending triggers: Do you feel driven to buy extravagant gifts? When you have a rough day at work, do you crave some retail therapy to feel better? Are you triggered to overspend in a bookstore, hardware store, or swap meet? "Know thyself"—and especially know your spending triggers so you can outwit them.
* Curb you buying impulses (and break the spell): Next time you feel the urge to buy something you hadn't planned to buy, simply clench your fist or flex your bicep. Voila! The spell is broken and you can actually think clearly again!
* Wrap your charge cards: Some financial advisors tell you to leave your cards at home to avoid temptation. I prefer to wrap my cards in my goals. Every time I take a card out, I see a picture or some words that represent a goal that's important to me. I get the opportunity to stop and decide whether what I'm about to purchase is more important than that goal.
* Distinguish "big happy" from "little happy": The big happy for most of us is having memorable experiences and being with the people we love. That other stuff we chase? That's usually the little happy—fleeting and not very fulfilling. Here's an example: One year our family decided to skip the ritual of exchanging gifts altogether. Instead, we took a walk together through a beautiful park. To this day, I still remember that walk almost like it was yesterday. The cost? Zero.
* Be consistently, consciously grateful: When we practice gratitude, we feel "wealthier" and more prosperous in all ways. Our self-esteem is greater and we just generally feel happy and appreciative of many aspects of our lives. Because of this, we're less likely to crave material goods to feed an emotional need.
So there you have it—ideas to help you and your family spend less and enjoy life more, through the holidays and year-round. Remember: Teaching children to save wisely, spend strategically, and give thoughtfully to others will help them become financially independent for life.
RELATED:
Where to Volunteer With Kids in the NYC Area