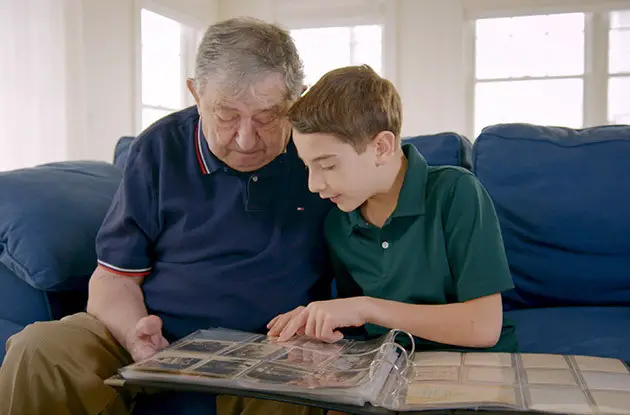 The Museum of Jewish Heritage - a Living Memorial to the Holocaust Now Showing 'The Number on Great-Grandpa's Arm'
The documentary tells the story of 10-year-old Elliot and his 90-year-old great-grandfather, Jack, a Holocaust survivor.
Get family activities sent to you
Get things to do with your kids
Delivered right to your inbox
Haier notes that both the film and the installation are produced with young viewers in mind. The animation helps soften disturbing images associated with Holocaust history, while it also creates a new opportunity for emotional connection to Jack's story and to deepen peoples' engagement with the film.
The responses to the documentary have been incredible, Haier says. People with Holocaust history in their family find the film to be relatable, and even viewers with no personal affiliation to Holocaust history were moved by the idea of how a child can learn from an older family member, she says.
The goal of this documentary is for people, especially younger people, "to continue to have access to the history even when there are eventually no survivors left. It's a great opportunity for younger audiences," Haier says.
Photo: In a still from The Number on Great-Grandpa's Arm, on view at the Museum of Jewish Heritage, Elliot looks at pictures with his great-grandfather Jack.
Courtesy HBO
Want more content like this? Receive our Scoop packed with great ideas