A great place for the whole family, just a short drive from the city.

Get local family events delivered to your inbox.
The Food in Riverhead
The local restaurants are really great. Our favorite was Jerry and the Mermaid, which is located right next to the aquarium. While the menu is mostly seafood, there were options like chicken wings and burgers that our kids loved. Farm Country Kitchen was a great option for lunch, it offers a wide selection of sandwiches and salads and even a boxed lunch option if you plan on touring the vineyards. Other great restaurants for families include Bistro 72, Buoy One, and Cliff's Elbow Room.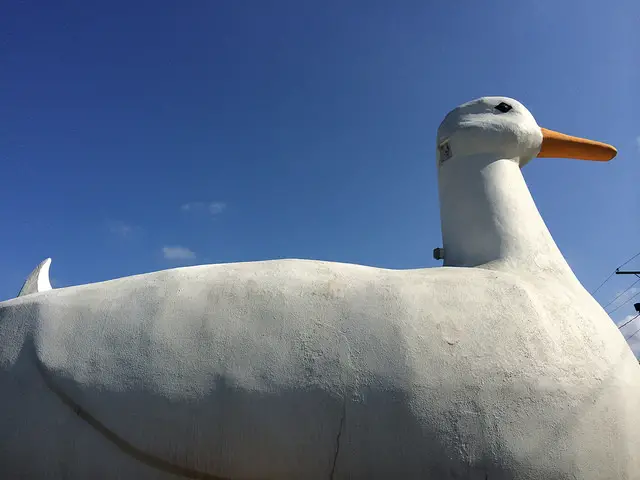 The Big Duck
The Big Duck is a museum and historic landmark that—you guessed it—is shaped like an enormous duck. Inside you'll find a gift shop that sells T-shirts, stickers, magnets, and a bunch of other duck-themed items. It makes for the cutest photo-op and our kids loved it. It really is a quintessential road trip destination. It also is a great place to plan a rest stop, as there is a large bathroom nearby.
Chevrolet recently teamed up with Harris Interactive to conduct a survery on the great American Road Trip. Here are some of the highlights:
Eighty-one percent of New Yorkers let their kids weigh in on road trip planning versus 67 percent of parents nationally.
Seventy-seven percent of New York parents who have a dog agree that they like to bring their dog on family road trips.
Surprisingly, kids are not the most stressful part of the family road trip. Keeping the kids entertained and hearing the ever-present "Are we there yet?" ranked lower than traffic, packing, and cost when it comes to the top stressors on family road trips.
Parents in New York are more than twice as likely as U.S. parents overall to say 5 hours is the perfect road trip length.
Families today bring an average of 6.6 devices on family road trips—New Yorkers bring an average of 7.1 devices.

Chevy provided me with a car for this trip. However, all opinions are my own.

RELATED: Family Day Trips and Destinations in NY, NJ, CT, MA, and PA


Main image: One of my sons exploring an interactive exhibit at The Long Island Aquarium.
Bethany Braun-Silva