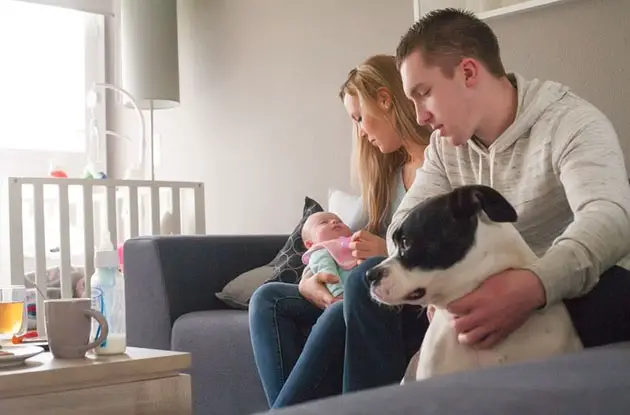 Introducing Dog to Baby
Get can't-miss family activities sent to you!
Get the Best Family Activities
Sent to You Weekly!
Every time the animal is near the baby, you must have your eyes on both, and I'd recommend a leash or harness on the pet, so you could easily pull them away if necessary. It is best to do these interactions with at least two people, that way while you focus on watching the baby and the pet, the person holding the pet has the ability to pull away if needed. Keep your baby safe while your pet is nearby with him or her on your lap or in your arms. Animals can react in unpredictable ways in new settings and the safety of your baby is the most crucial.

Are there benefits to having a pet at home with a newborn?
Yes! Pets bring an incredible amount of joy and love into a home. They can be stress relievers, professional snugglers, and at times feel like therapists! While trying to balance caring for your newborn and your pet may initially be a challenge, it is totally worth it.
There can be medical benefits as well. A recent study shows that exposure to dogs or cats as an infant is associated with fewer allergic diseases as the child grows, and showed no increase in allergic disease. Another study, which followed children younger than 1 who had a cat or a dog in the household, determined that these children had fewer lung and ear infections than those children not exposed to animals.
RELATED: The Health Benefits of Kids Having Pets