The Best Way to Visit the Liberty Science Center Right Now
The Liberty Science Center is open to the public with a variety of COVID-19 safety precautions to keep you and your family safe.
Get can't-miss family activities sent to you!
Get the Best Family Activities
Sent to You Weekly!
Our Hudson Home: The Hudson River is home to thousands of species. Discover the importance of this river and how environmental preservation efforts and smart technologies ensure this natural resource continues to thrive.
Boom Time: Who doesn't like to watch things explode? Experience liquid nitrogen explosions of things like watermelons, bouncy balls, and more!
Hoberman Sphere: Watch as hundreds of scissor-like connectors expand and contract the globe throughout the day.

Energy Quest: Explore surface, bio-stored, nuclear, geo-thermal, and ocean energies, and learn how we harness that energy from various sources.

Kitty Hawk Flyer: This vertical take-off and landing vehicle is powered by 10 fans and was designed to give people the ability to glide 3-10 feet above the water.

Pixel Art: Make fun patterns and art on this giant wall installation! It's made of 952 pixel dials, each containing more than 1,000 possible color combinations which you rotate to turn on.

Skyscraper!: Discover the mechanics of elevators, build your own skyscraper to test its response to earthquakes, learn about skyscrapers' effects on culture, and more.

Bees to Bots: Peer inside the museum's bee hive to see real honey bees at work, then learn how these insects are inspiring inventors.

Universe Revealed: Take a selfie with some of the most gorgeous sights in the universe captured by the Hubble telescope.

Communication: Learn about the origins and history of human language and explore the physics behind some of the technology we use today.

1 Million Volt Tesla Coils: See the pair of Tesla coils that were donated to the museum by magician David Blaine (they were used in his 73-hour endurance stunt in NYC), and learn about Nikola Tesla, a pioneer of electric power.

Wonder Why: Have fun with various activities inspired that celebrate the joys and wonders of science, including making minerals glow, exploring optical illusions, and more.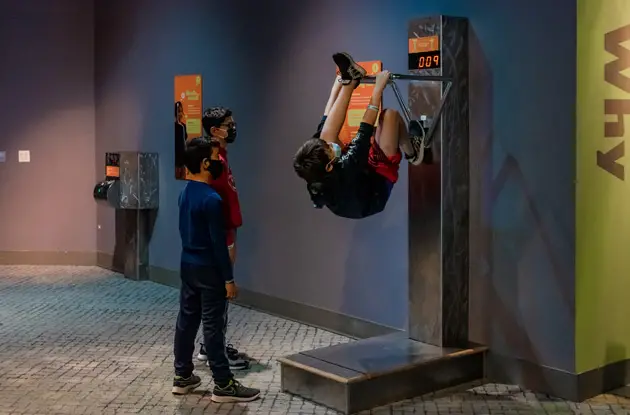 Visiting Liberty Science Center
Where is Liberty Science Center located?
The Liberty Science Center is located in Liberty State Park at 222 Jersey City Blvd., Jersey City, NJ.
When are Liberty Science Center's hours?
Liberty Science Center is open Thursday-Friday, 10am-4pm, and Saturday-Sunday, 10am-5pm.
How can I get to Liberty Science Center?
You can drive to the museum, or you can take public transportation from NYC:
PATH Train: Take the train to the Pavonia/Newport or Exchange Place station and transfer to the Hudson-Bergen Light Rail ($2.75 per ride).

Hudson-Bergen Light Rail: Take this train to Liberty State Park station and follow the signs to the sidewalk under the New Jersey Turnpike overpass ($2.25; $1.10 children ages 5-11; free for children ages 4 and younger with any paying passenger).

Liberty Landing Ferry: Take the ferry from the World Financial Center to Liberty State Park. LSC is approximately a 20-minute walk from the ferry terminal (round trip: $14; $12 seniors; $10 children ages 6 and younger).
Is there parking at Liberty Science Center?
Yes! Visitor parking is $7 per day. Parking can be purchased in advance, which is highly recommended.
How much is admission at Liberty Science Center?
Recommended Combo (includes general admission, Beyond Rubik's Cube, and a theater show): $36.99; $31.99 children ages 2-12

General admission (includes all exhibits, free science demos and labs, and all-day admission): $24.99; $19.99 children ages 2-12

Create a Combo (and add as many premium shows and exhibitions as you wish to your general admission ticket, including Beyond Rubik's Cube and theater shows): general admission, plus $6 per addition
Can I become a Liberty Science Center Member?
Of course! The museum offers three levels of annual family membership options, all of which include unlimited admission for one year, single-use passes for planetarium shows and premium exhibits, special discounts, and more.
Is Liberty Science Center on social media?
Liberty Science Center is on Facebook, Instagram, Twitter, YouTube, and Snapchat.
For more information, visit Liberty Science Center's website, or call 201-200-1000