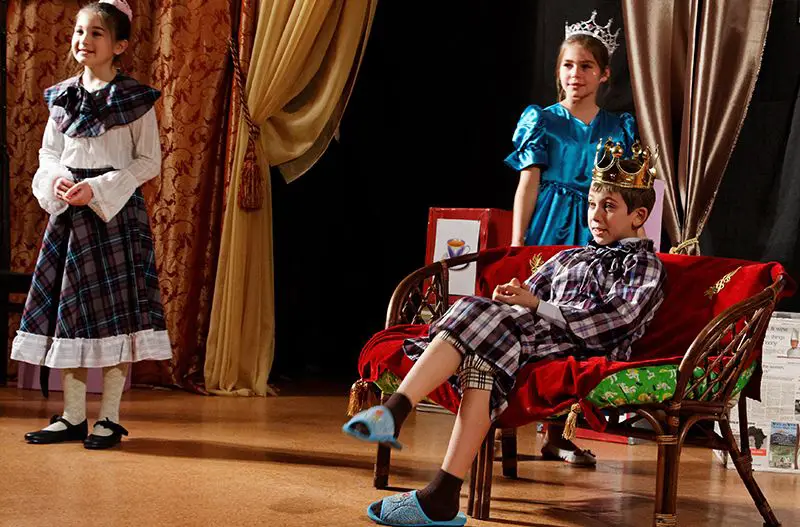 6 Ways to Make History More Fun for Kids
Get kid-friendly activities sent to you!
Get the Best Family Activities
Sent to You Weekly!
Learn a new language.
Children have often been mesmerized by the idea of creating their own make-believe worlds. There's no better way to do that than teaching children how to read and write their own names in hieroglyphics or another "secret" language such as Morse Code. You can use that to teach them about a particular time period and professions people had then.
"Children can write in secret codes with their friends that adults aren't able to read," Brier says. "Having a secret language isn't always the objective—children often like to hear the stories behind their secret language."
Other families incorporate their native language into traditions and holidays. Perhaps there's a birthday song or blessing that the child can learn in the family's native tongue. Even if grandparents don't remember the songs, there's a good chance that you can find both the song's lyrics in the original language as well as a phonetic version on sites such as YouTube. Children who know that a language is important to their family may become more excited about it. Many language classes, which can be found throughout the area, invite parents to learn, too!
Take a hands-on approach.
Although many museums do not allow children to touch various objects, there are museums that are made for children (and exploration!). The Museum of Interesting Things is a traveling interactive demonstration and exhibition of antiques and inventions that goes to schools and events in the area that inspires kids and adults to engage with the displays.
"We will often trust an item in the hands of a student or several students so that they can interact with what changed our country," Denny Daniel, the museum founder, says. "Kids understand and demonstrate responsibility when you trust them with something that they are normally not allowed to touch, and that impact makes the rest of the message sink in better."
Daniel, formerly a restorer for such companies as The Statue of Liberty/Ellis Island and the New York Times who amassed an extensive collection of antiques over three decades, started his traveling exhibition to inspire students and some of us in the 'real' world to learn from the past and innovate a better future. Historical pieces include an Edison cylinder phonograph from around 1877, a Tibetan prayer book from the early 1600s, and a mechanical calculator from the 1920s that will seem ancient when compared to the app on your mobile!
The Museum of Interesting Things has a monthly Secret Speakeasy event where the audience is engulfed in artifacts relating to a specific theme and also gets to watch actual vintage 16mm films on the theme in a comfortable atmosphere. Party showings and private events can also be arranged; see museumthings.org for details.
Find more kid-friendly museum exhibits near you at nymetroparents.com/museums.
Attend special events.
Each year, the American Museum of Natural History hosts 22 wildly popular sleepover experiences for children and their families. Children pack sleeping bags and toothbrushes, travel around the museum with their parents or chaperones and, eventually, fall asleep under the iconic big blue whale in the Milstein Hall of Ocean Life. Prominent scientists, curators, and historians share their life's work with guests during these visits.
"The children's reaction to this experience is always of amazement and wonder," says Brad Harris, senior director of visitor services at the American Museum of Natural History. "By far the most popular part of the event is the Fossil Exploration by Flashlight. Touring the historic dinosaur hall, dimly lit and by flashlight, simulates the experience of becoming a paleontologist on a ground-breaking dig, discovering these incredible dinosaur bones for the very first time. It is absolutely an unforgettable experience."
Suffolk County is home to the Walt Whitman Birthplace State Historic Site and Interpretive Center, which has children's and educational programs from all grade levels that encourage children to play games from the time period in which Whitman lived, begin to write poetry, and discuss the differences between then and now. Children's programs, which can be used to help scouts earn badges, include making a cornhusk figure (and learning about Native American and Colonial traditions) as well as hosting a Victorian tea party.
Fairfield County, CT families can take advantage of several programs at Mystic Seaport, including the "Life in a Seaport Town" guided tour, which is a favorite among social studies teachers. The tour allows students to visit a re-created 19th-century seafaring village, comprised of New England buildings that are staffed with historians, musicians, storytellers, and craftspeople who tell the stories of those who had various occupations while reinacting what a day in the life of a 19th-century shipsmith, chanteyman, or ship carver would have been like. Horse-drawn carriage rides are also available.
More History-Themed Fun
Top Historical Places to Take Kids in the NYC Area
Discover a treasure trove of nearby destinations to visit with your family.
For Moms and Their 'Little Women'
Take your little woman on a weekend trip to Concord, MA and the home of Louisa May Alcott, author of Little Women, for a precious peek into the past
Exhibits, Movies, and Games to Get Kids Interested in History
History doesn't have to include museums—or even leaving your home. Find a list of movies and games that bring history to life.