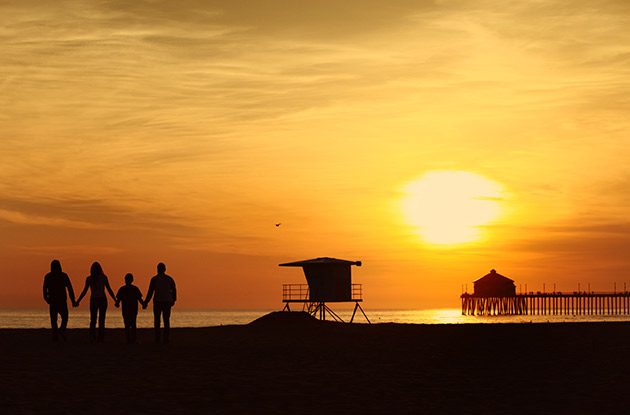 Your Weekend Itinerary for a Family Vacation in Orange County, CA
Teens, toddlers, kids, or adults: Buena Park and Huntington Beach, California both provide genuine fun for the whole family.
Get can't-miss family activities sent to you!
Get the Best Kid-Friendly Activities
Sent to You Weekly!
The non-stop fun doesn't have to pause for a dinner break in Buena Park. Both Medieval Times and Pirate's Dinner Adventure are exciting, high-energy dinner performances that will make you feel like you're a part of the show. At Medieval Times, feast on a chicken leg (no utensils allowed!) corn, warm garlic bread, and tomato soup while watching a jousting tournament that really gets the heart racing. Pirate's Dinner Adventure offers a similar menu and loud, rowdy pirates who will really plot each team against each other. You'll find yourself cheering "go red!" with a mouthful of mashed potatoes.
Day 2: Huntington Beach
When you (and the kids) are tired from the non-stop, high-energy fun of Buena Park, it's time to take a relaxing drive 15 miles to the coast of Southern California to visit Huntington Beach.

An oceanfront room at the Kimpton Shorebreak Hotel.
If you want an authentic, surf city hotel stay, the Kimpton Shorebreak is a no-brainer. This modern-bojo style getaway is right across the street from the beach, with remarkable ocean views from certain rooms. The vibrant colors and surf-inspired décor will make you feel like a local. It's convenient location allows for restaurants, surf shops, bike rental, and, of course, the beach, all within walking distance of the lobby.
Breakfast
Pacific Hideaway, located within the Shorebreak Resort, takes inspiration from global surf destinations, making you fully-immersed in the Huntington Beach surf-culture from the second you wake up. The breakfast options range from health-conscious overnight oats and granola parfaits to waffles and bread pudding toast that the kids will love. My favorite was definitely the Socal breakfast burrito.

Ruby's Diner, located at the end of Huntington Beach Pier.
The 1,850-foot Huntington Beach Pier is one of the longest recreational piers in the world. At the beginning of the pier, Duke's offers out of this world seafood accompanied by out of this world ocean views; a great lunch place for the family. If you work up an appetite again by the end of the pier, you have to try a bag of fries from Ruby's, the diner located at the very end of Huntington Beach Pier. Just be sure to keep a watchful eye over them if you're eating outside, the seagulls are not exactly polite.
Afternoon Fun
While you're here, if you can muster up the courage, taking a surf lesson is a must. At Toes on the Nose, the surf instructors will walk you through everything, beginning with how to put on your wet suit and ending with successfully riding a wave. You'll practice getting up on your board on dry land and be sure to get your footing before taking to the ocean. If you're a natural and you don't need a lesson, Toes on the Nose also offers surfboard rentals, along with bike rentals. There's also a variety of fun surf-inspired souvenirs to prove to everyone back home that you actually surfed in Southern California! (Or at least visited a surf shop.)
If getting on the board isn't quite for you but you still want to dive into the surf culture, the International Surfing Museum is the next best thing. Learn about the past, present, and future of surfing culture worldwide and feast your eyes on the world's largest surfboard! Admission to the museum is a $2 donation per person. If you're in town on a Sunday, Surfin' Sundays is a concert series featuring a variety of surfing music, located at the Huntington Beach Pier. Best part? It's free.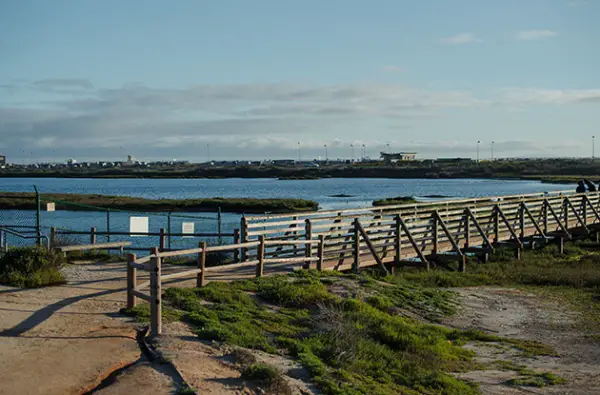 Bolsa Chica Wetlands and Ecological Reserve, the largest saltwater marsh along coastal California.
If surfing wasn't enough of a workout, visit Bolsa Chica Wetlands and Ecological Reserve for a free tour of the largest saltwater marsh along coastal California between the Monterey Bay and the Tijuana River Estuary. Take in 1,400 acres of fresh and saltwater wetland habitat, walk over the boardwalk over the marsh, hike over five miles of trails through the lowlands, and learn about the Bolsa Chica wetlands at the Interpretative Center. This park will give you a whole new perspective on California.
Dinner & Evening Entertainment
For an array of easily accessible restaurants, shops, and activities, Pacific City is a stone's throw away from The Kimpton and a shopping hub for everything a Southern Cali visitor might need. The architecture is inspired by beach bungalows and offers patio dining, outdoor movie nights, and lax hang-out spots with unobstructed beach views. Pacific City's artisanal market and California culinary experience LOT 579 serves everything from gourmet sandwiches to fresh ocean-to-table seafood. A must-visit is Ola (Spanish for "wave" and Hawaiian for "life") for delicious Mexican cuisine and beautiful views of the sunset over the Pacific. If you want to be deemed coolest parent ever, order the churros. Trust me.
If you've still got any room after dinner, wind-down from your action-packed, Southern California weekend with a complimentary fireside s'more on the Kimpton Shorebreak Patio. The bonfire goes on until 10pm and it is a perfect, relaxing way to end a family trip that you won't soon forget.
Images courtesy Visit Huntington Beach and Development Counsellors International