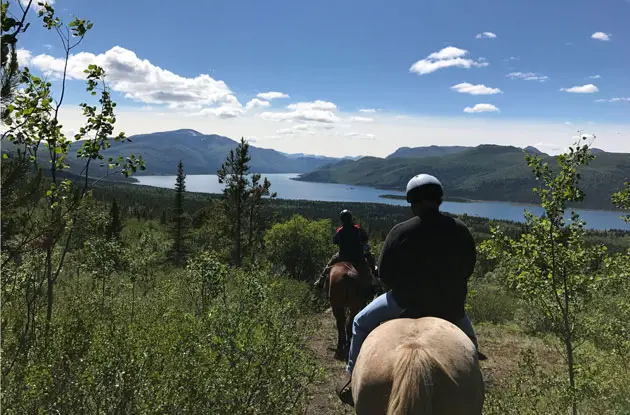 Family Adventure in the Yukon
Canada's Yukon Territory is a great place to take kids for an adventurous vacation full of glaciers, rafting, and more.
Get can't-miss family activities sent to you!
Get the Best Kid-Friendly Activities
Sent to You Weekly!
Horseback Riding in the Yukon
As a fan of horseback riding, I was excited to explore the region from atop this majestic creature. I've done horseback riding at some pretty amazing places, but the views overlooking the Fish Lake Valley and Bonneville Lakes, with the mountain ridge as a backdrop was really beautiful. The three-hour tour is worth (they also offer one and two hour tours), because you get the highest views. Sky High Wilderness Ranch also offers dog sledding tours in the winter, something I'd love to come back and partake in.
Dawson City
Dawson City is home to plenty of year-round festivals. We happened to be visiting during the summer music festival, but even if you come during a non-festival time, there's plenty to do in and around this unique northern city. While it may look like a movie set with all its western-looking stores and hotels, it's a Parks Canada Historic Site, filled with plenty of history. In fact, one of my favorite activities in the town, was taking a walking tour with Parks Canada to learn about the colorful history of the Klondike Gold Rush that made the town famous. Some of the town highlights include Diamond Tooth Gerties Gambling Hall (Canada's oldest casino complete with cancan shows). The Klondike Spirit river cruise is the only paddle wheeler in operation on the Yukon River, was a great way to get more historical information and see the city from the water.
Flightseeing Tour Over the Tombstone Mountains
What was especially interesting about our Great River Air air tour is that the Cessna aircraft had camera hatches in the rear window, so I was able to fly with the window open for unobstructed views of the mountains and scenery below. We flew over the mining posts and beyond the valleys and forest of the region. Even though the weather was a bit hazy, we had great views of Tombstone Mountain's peak.

No matter what your family's interest—horseback riding, white water rafting, glacier flightseeing, panning for gold or simply taking in the scenery—you'll find plenty of it in the Yukon.