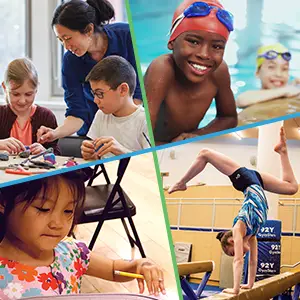 92nd Street Y After-school Enrichment 
Unplug your kids! After a year of Zoom and remote learning, experience the perfect balance of active play and active learning. We offer more than 50 programs from sports and swim to musical theater, the arts and dance – all led by expert teachers highly skilled in engaging children in grades K-5. 
Please send me information about 92Y
Find More
SPORTS - PROGRAMS - MULTI-SPORTS

92nd Street Y, a world-class cultural and community center, provides an inspiring, safe, and supportive home for children and families, with decades of expertise in early childhood learning, parenting, summer camps, special needs programs, after school, and classes of all kinds including art, music, dance, musical theater, sports, and swim.
Get the Best Family Activities
Sent to You Weekly!