All Star Studios
108-21 72nd Ave. (4th floor)
Forest Hills, NY
718-268-2280
Our students raised $2,200 for Autism Speaks!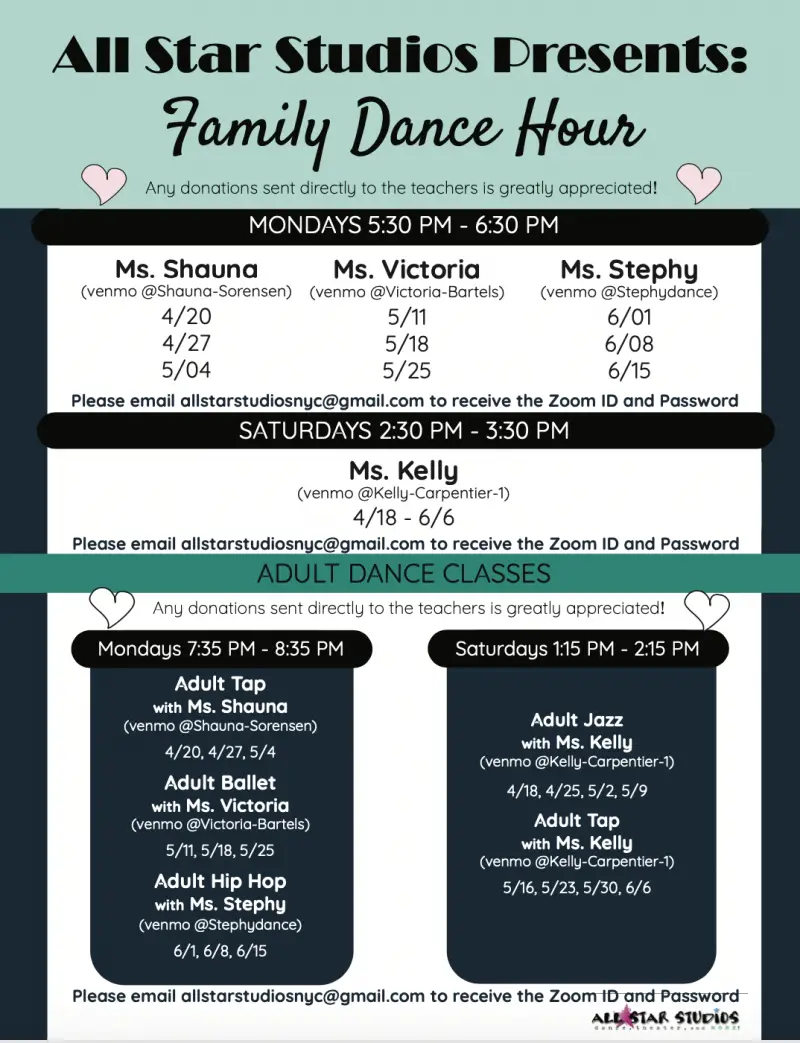 Check out our new beautiful studios!
718-268-2280
108-21 72nd Avenue * 4th floor
Forest Hills, NY 11375
(Formerly Just East of Broadway)
is THE Forest Hills Performing Arts Studio.
We are currently offering classes in:
Theater
Tap
Jazz/Contemporary
Ballet
Hip-Hop
Gymnastics/Acrobatics
Adult classes in Ballet
All of our activities are designed to encourage performers at every skill level to grow.
The students will increase flexibility, improve coordination, focus on muscle strengthening, build poise, and HAVE FUN!

All of our instructors have the experience in both teaching and performing to teach students the skills needed to pursue a career as a true artist, as well as the compassion to help push them toward their goals and build their self-confidence.

New students can come try a class
COMMITMENT FREE
to make sure that the class, teacher, and schedule all work out
in the best interest of our students and their families.
Private lessons also available, please call the studio to find out rates and availability.

Call To Register Today!!!
718-268-2280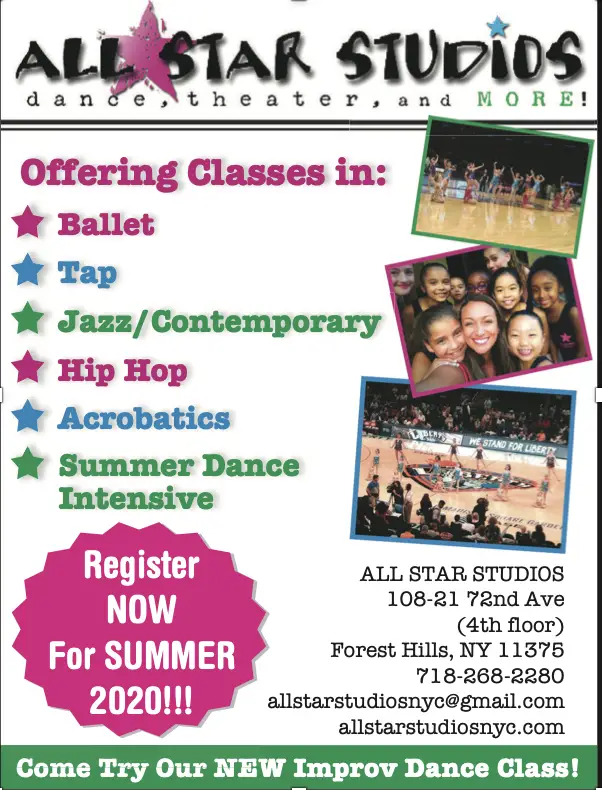 Contact Us About All Star Studios
SUMMER ACTIVITIES - PERFORMING ARTS

All Star Studios Summer Session of Jazz, Tap, Ballet, Hip-Hop, Lyrical, Jumps and Turns, Stretch and Strength, and Acro for ages 3 and older, runs July 7-Aug. 23. Demonstrative assistants included so teachers can focus on student's progression! Classes modified to accommodate in-person and Zoom classes simultaneously in Phase IV.
Get things to do with your kids
Delivered right to your inbox