Apple Blossom School and Family Center
Click Here to Get More Info
440 Danbury Road
Wilton, CT

203-493-4003
The Apple Blossom School & Family Center is based on the Waldorf early childhood philosophy of learning through play, activity, and imagination as well as the fostering of development through exposure to nature, the arts and the oral traditions of storytelling and puppetry. Located in bucolic Wilton, Connecticut, by Cannon Crossing, we offer Parent/Infant, Parent/Toddler, Nursery and Kindergarten programs as well as Arts Enrichment programs for homeschooler and Summer Programs. In addition, we support families through parenting and artistic workshops, and an active community and festival life.
Open Houses Every Tuesday Morning from 9:00 – 10:30
(RSVP at the telephone number below)
Private Tours and Information Session by Appointment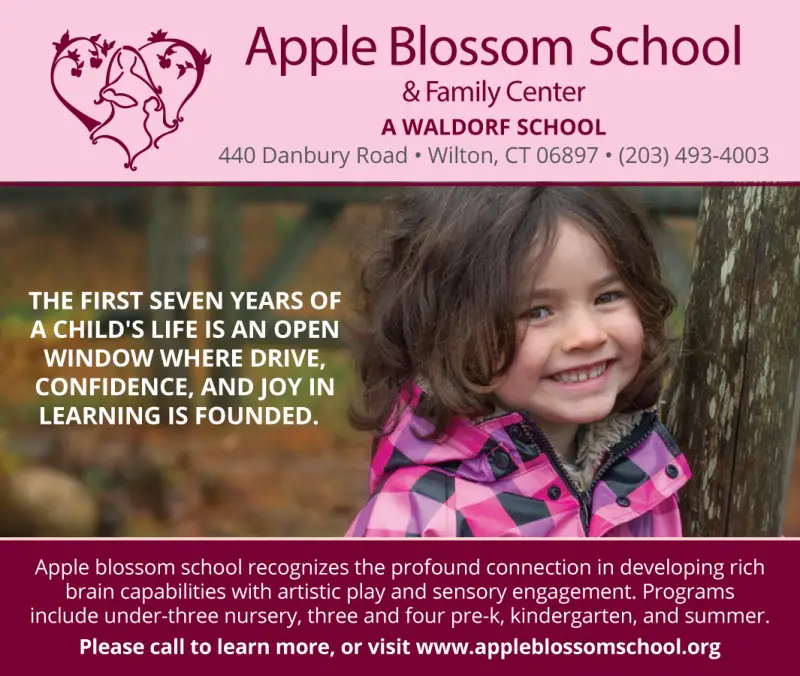 BACK TO SCHOOL
The Apple Blossom School and Family Center is a Waldorf school specializing in ages birth through 7 years. Our programs support the healthy development of the young child by educating through play, artistic activities, and outdoor activities. Emphasis on nurturing each child's natural sense of wonder and joy, and comradeship for their fellow playmates, allows the full development of kindness, confidence, and mastery skills. We offer parent and child classes from birth to 3 years, a flexible under-3 nursery, a preschool for ages 3-4, mixed-age kindergarten, and an Extended Care Program until 4pm.
Contact Me About Apple Blossom School and Family Center
Find More
Get NYMetroParents via Email