Artistree Performing Arts
114 W. Boston Post Road
Mamaroneck, NY
914-835-2200
Camp Artistree 2020 Is ON!
We are pleased to announce that Camp Artistree WILL be running this summer as scheduled for July & August. Artistree is a Phase 4 business, so if the New York reopening phases continue as planned, we will see a July 6 opening at the studio. Should Phase 4 not begin on that date, an outdoor space at the Village at Harbor Island has been reserved so we may still safely run our camps. We will be implementing all social distancing and sanitation practices to ensure the safety and health of your children and our staff.

Given these new regulations, we are now capping each show at 11 participants, so be sure to use this link to sign up SOON! Email info@artistreearts.com with any questions, and we can't wait to see you this summer!
For campers & families who would prefer a remote camp experience, we have now added a totally virtual option to the Lion King & High School Musical Camp Weeks. Click here to learn more about this alternative!
Announcing Artistree's Livestream Filmmaking, Hosting, & Podcasting Classes!

Taught by our very own multitalented Mark J. Parker, these classes will boost your content creating knowledge and confidence in no time!
FILMMAKING BASICS
2 Class Sections:
7th-12th Graders & Adults
A perfect class for students of all ages who have an idea for a short film, Mark will guide you through the whole process of making a quality film. Topics taught will include writing your script, preparing for a shoot, filming on locations, editing footage, and publicizing a finished film.
HOSTING & PODCASTING
2 Class Sections:
7th-12th Graders & Adults
A class for content creators of all ages with big personalities, Mark will guide students through the particulars of both audio and visual hosting. Topics taught will include at-home editing and equipment techniques and guidance for editing & bringing your own content to life.
CLICK HERE TO SIGN UP & LEARN MORE!
Meet The Teacher: Mark J. Parker
Mark J. Parker is an acting coach, independent filmmaker, casting director, digital content creator, podcast host, and SAG-AFTRA actor. Mark has worked on many films and TV shows in various capacities throughout the years, from broadcast series "Ugly Betty" and "30 Rock" to cable shows like "Celebrity Close Calls." He cast 7 seasons of the ABC hidden camera series "What Would You Do?" at ABC's Lincoln Square Productions in NYC. Additionally, he's cast improv-based/soft-scripted TV specials, limited series, and reality series for broadcast, cable, and streaming networks since 2010, along with scripted independent films and video projects. After 40 North American film festival acceptances, his short film "Sticks" is available to watch on Amazon Prime Video, and his next short "Family History" will be finished and screening later this year. He co-hosts and produces the entertainment podcast "Add This To Your List," and he graduated from Fordham University and received a certificate in Producing from NYU's School of Professional Studies.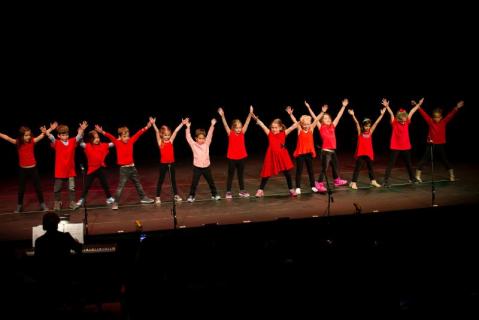 Artistree Performing Arts is a performing arts studio offering classes for students preschool through high school. We strive to foster a community of performers who can build confidence and friendships in a supportive and engaging environment.
CLASSES:
Artistree offers everything from preschool performing classes, after-school classes in acting, film, and musical theater, and performance workshops for elementary, middle and high school students. Whether your child is on a pre-professional track or just loves to sing and dance, we have the class or workshop to fit their needs. This coming semester, we will be putting up several shows including Frozen, Jr. for 1st-7th graders, Fame, Jr. for 6th-8th graders, and Hair for 9th-12th graders! Our Fall Semester beginning in September is live for enrollment! Click here to sign up!
CAMPS:
Artistree offers weekly performance camps for Preschool-9th grade during the February Break, Spring Break and all summer long! We also offer THREE different three week camp experiences in the summer where students rehearse and mount a show!
Virtual Birthday Parties

Let Artistree provide a special birthday treat for your child with our virtual parties! We have options that include a personalized video message, or even a Zoom party with all of their friends! We have everything you need to help create a very special birthday experience for your child. Our professional performers bring your child's favorite characters to life in a personalized interactive show that will have them singing and playing along from the comfort and safety of your own home!
Call us at (914) 835-2200 to schedule your party today!
Video Message $95

Entertainment
• Custom 10 minute video featuring your child's favorite character wishing them a "Happy Birthday" and singing their favorite songs!

FaceTime or Zoom Call $95

Entertainment
• 15 minute one-on-one video call from your child's favorite character. We'll sing "Happy Birthday," do an activity + sing their favorite songs!
1 Hour Zoom Party $145
Entertainment + Guests
• 30 minute show featuring your child's favorite character! We'll lead "Happy Birthday," teach them a song with choreography, have a virtual tea party, or story time! Also includes time to hang out and talk with party guests on Zoom.

BIRTHDAY PARTIES:
Looking for something unique for your child's birthday? Let Artistree customize a party that will let your child shine on their special day! Whether coming to your space or taking care of all of your party needs with a fully catered party, we have the perfect party package for you. Themes include princess, hip-hop, karaoke, superhero, Broadway and more! Click here for more info!
Check out our website at artistreearts.com and come see "where talent grows" at Artistree Performing Arts!
Contact Us About Artistree Performing Arts
Find More
Read More
Get things to do with your kids
Delivered right to your inbox