Be The Best Sport
30 Beechwood Ave.
Port Washington, NY
516-453-0990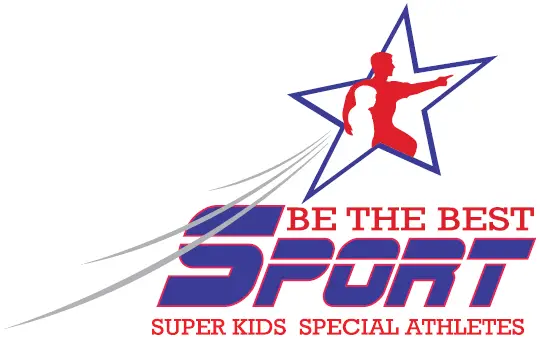 About Us
Be The Best Sport is 501(c)(3) adaptive sports program for children who have intellectual disabilities as well as physical impairments. At Be The Best Sport we offer a variety of sports and programs that focus on exposing the children to the world of sports and to help develop and strengthen their motor, cognitive, and social abilities. Our athletes have the opportunity to learn the basics of each sport, through a hands-on multi-sensory approach. The program helps facilitate the building of sport skills, confidence, self-esteem, and sportsmanship, while meeting the needs of each individual. Our motto is to "Have FUN, make FRIENDS and always leave with a SMILE" and is what motivates us each week to provide a great experience that our athletes will remember for a lifetime.
| | |
| --- | --- |
| | |
Be The Best Sport provides sport birthday parties for children with special needs. Our qualified staff will make sure your son or daughter has a once in a lifetime experience! We will come to your home or we can rent a facility or park near you! Please visit the link below for more information and we will call you to set up the details!
Special Needs Sports Classes
The objective of our baseball program is to teach children with special needs the fundamental of the sport and build upon their skills. This class will focus on developing motor skills, hand-eye coordination, stretching, agilities, physical fitness, and having fun! Our instructors will incorporate different technical aspects of baseball and teach the athletes the proper stance when hitting, correct throwing mechanics, base-running, and more. The athletes will play a variety of games that incorporate the skills learned over the course of the program.
Our basketball program is designed to help children with a variety of special needs grow both athletically and socially in a safe and fun environment. Be The Best Sport classes provide a way to acquire new skills through an array of drills and games, while developing social skills. Players will learn different passing techniques, dribbling, proper shooting form, defense, and basic basketball plays amongst other skills. Players will also be exposed to real game play as they advance in the program. This game play is supervised and certified coaches will periodically pause the game in order to explain and demonstrate proper techniques. Our staff is professionally trained and dedicated in the development of the players on and off the court. Space is limited.
| | |
| --- | --- |
| | |
Our athletes will be exposed to a variety of age appropriate sport activities. The children will be introduced to baseball, basketball, football, and soccer, and will participate in drills and exercises that enhance basic athletic skills. Our professional staff is dedicated to the development of your child on and off the playing field. Through these activities, athletes will improve their coordination, balance, social skills, and peer relationships while in a safe and comfortable environment. Children will be divided into small groups during drills and participate in collaborative group activities as well. Instructor to child ratio of 1:3. Class is size is limited to 15 athletes per class.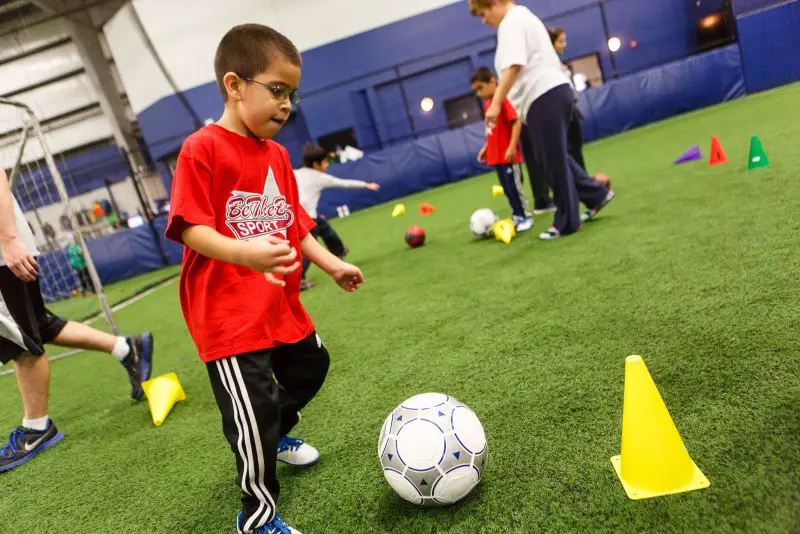 This carefully adapted program allows children with special needs to build skills in a nurturing, and non-competitive environment. Our soccer program currently serves children with special needs, ages 7 – 13 years old and class size is limited to 15 so that a 1:1 volunteer/child ratio, and a 1:4 coach/child ratio can be maintained. Professionally trained coaches and dedicated volunteers help the children acquire athletic skills such as dribbling, passing, shooting, agilities, and social skills. Space is limited.
| | |
| --- | --- |
| | |
Our track program provides our athletes with opportunities to experience teamwork, build trust, increase their social skills, increase their physical skills, and experience fun and enjoyment through their achievements. Athletes will learn an array of skills such as form running, start positions, formula racing, long jump, obstacle course, 200 meter run, relays, 4×100 relays, hurdles, shot put, javelin throw, and more! Our trained and professional instructors will provide a safe and informative environment for social interaction and physical activity. In order for the Be the Best Sport track and field program to ensure safety and maximize enjoyment all track and field events will be modified to each child's special need while their positive efforts are praised. Through the constant encouragement and successful experiences provided by Be the Best Sport track and field program all athletes will gain confidence and self-esteem that will enable them to challenge themselves in the future.
The Be The Best Sport and Tokey Hill Martial Arts Adaptive Karate Program has a unique and caring approach to teaching children and adults with varying restrictions and disabilities. This class offers adaptation that will promote and aid each student's development to their full potential.
Increased self esteem is accomplished through student 's achieving belt rank. Physical benefits include increased strength, flexibility, balance, coordination, and cardiovascular fitness. Adaptive karate program improves self esteem, concentration, self control, and social skills.
This class will also help students channel anxiety and stress. Students will learn self defense, respect, discipline, and the value of perseverance. Students will enjoy karate class, be motivated to exercise, and have fun!
This class is designed to enhance and improve general fitness for tweens and teens of all fitness levels.
This boot-camp style work out will include battle ropes, ball slams, light weight training, and core-strengthening exercises to improve strength, flexibility, balance, and agility.
The class format includes a dynamic warm up, bag work, mitt work, foot work exercises, strength training, and a cardiovascular component in a light and fun environment. The sound of a great beat only makes for a great environment promoting FUN and FITNESS.
The instructors are patient and encouraging so that all participants will feel confident and comfortable. Participants will learn goal setting skills, anti-bullying strategies, and nutritional facts.
This class is safe as well as a forum for socialization and self esteem building. Participants will leave this class happy and motivated to come back for more!!
Contact Us About Be The Best Sport
Find More
CAMPS - CAMPS FOR OLDER KIDS - PRINT GUIDE

We offer fun-filled activities each day giving your child a unique opportunity to play and have fun with other campers the same age. Designed to inspire learning through a range of physical activities and games; our multi-sport summer camp offers a low pressure, yet high energy environment, allowing your child to excel in a range of sports. These games and activities, combined with our coaching staff, ensures your son or daughter will have a great experience. Our counselor-to-athlete ratio for our "Mini's" program is 1-to-5 and for our "Junior's" program is 1-to-8 in order to maintain a safe environment.
Great Family Activities Sent To You!
Arriving weekly