Breezemont Day Camp
Send me info
62 Cox Ave.
Armonk, NY

914-367-1936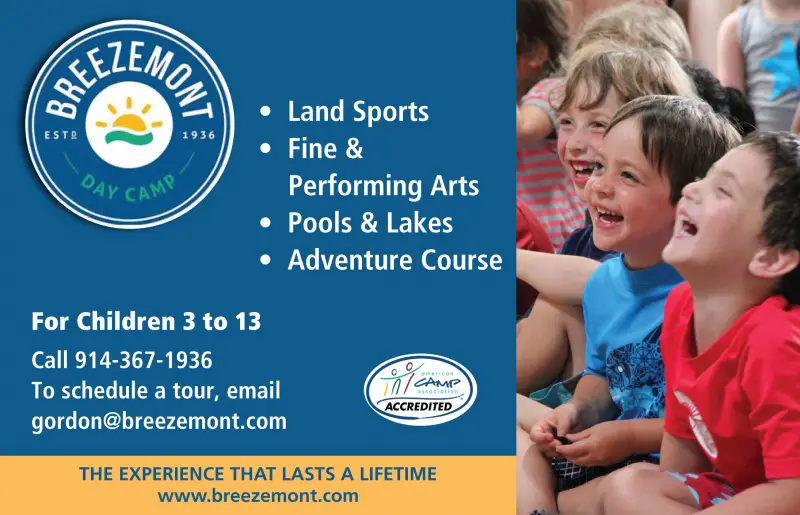 Breezemont, founded in 1936, is a co-ed day camp for children ages 3-15, located on 15 beautiful acres in Armonk, NY. We specialize in creating valuable summer experiences that our campers remember for a lifetime. Summer after summer, families return to Breezemont for its encouraging atmosphere, wide array of activities, and thriving sense of community. In today's world of digital interactions, Breezemont campers make real connections with fellow campers and our experienced staff, gaining the social and emotional tools they need to be successful in life. We are dedicated to providing an extraordinary summer camp experience where children can grow, explore, connect, and play, in a fun and safe environment.
CAMPS -- DAY CAMPS -
Located on an expansive 18-acre property in Armonk, Breezemont is nestled in its natural surroundings. Our campus maintains large green fields, towering trees, and a beautiful lake, which is a unique feature for a day camp. Complete with state-of-the-art facilities, Breezemont preserves the appearance of an overnight camp, while implementing a creatively robust day camp schedule. Heated swimming pools, and towel service provided. Hot lunch served daily. Pre- and post-childcare available. Snacks provided as well as door-to-door transportation. Ages 3-13.
Meet the Director

Gordon is the owner and director of Breezemont Day Camp. Originally from Scotland, Gordon arrived in 1990 to work for one summer at Indian Head Camp in Pennsylvania, and has worked in camping ever since. "I can't wait for the summer to be here," he says, "that's when the fun begins!"
Contact Me About Breezemont Day Camp
Find More
Get NYMetroParents via Email