Brooklyn Amity School
3867 Shore Parkway
Brooklyn, NY
718-891-6100
Who We Are
Divisions
Student Life
Events
About Brooklyn Amity School

Why Choose Brooklyn Amity!
Brooklyn Amity School provides a private PreK-3-Gr. 12, co-ed, college-preparatory educational program through a well-balanced curriculum emphasizing STEAM and the integration of athletics & project-based (& blended) learning. Brooklyn Amity provides a safe learning environment that cultivates respect for self & others. Graduates of Brooklyn Amity School are global thinkers who contribute to the community as socially-responsible, generous, and educated members of society.
Mission & Philosophies
Brooklyn Amity's focus lies in our stringent application of six key principles: Academic Excellence, Character & Uniqueness, Community & Service, Early-Childhood Development, Cultural Diversity & Acceptance, and College Preparedness.
Our Philosophies

Academic Excellence
Learning is not attained by chance, it must be sought for with ardor and attended to with diligence." - Abigail Adams - At Brooklyn Amity School, intellectual prowess is left in the hands of the students. One s thirst for knowledge, and furthermore, an eagerness to expand one s general understanding of the world, is integral in the self-realization of one s true purpose and potential. Faculty and staff will assist in this journey, but it is the responsibility of the student to value his/her education in a way that draws from their work-ethic and facilitates a path to success.
Character & Uniqueness
Two roads diverged in a wood, and I - I took the one less traveled by, and that has made all the difference." - Robert Frost - Students at Brooklyn Amity School witness a growth, within themselves, that is unparalleled. In addition to receiving a stimulating formal education, students, over the course of their childhood and adolescence, build character, realize their true uniqueness, and establish a set of core values that enable them to become productive, good-natured and kind members of society. At Brooklyn Amity School, students will be exposed to an atmosphere of self-explore and personal intrigue. Our students stand-out rather than, simply, fit-in. In their classes, students learn to define and express themselves in their own unique ways and learn to value their contributions to the group. Students experience delight and success in discovering their own gifts and sharing them within the school community, which prepares them for serving the world.
Community & Service
An individual has not started living until he can rise above the narrow confines of his individualistic concerns & to the broader concerns of all humanity." - Martin Luther King Jr. - Brooklyn Amity empowers students to become engaged citizens. As a school-community, we strive to promote an ethos wherein humanity (and a commitment to serve others) is valued ahead of the individual.
Early-Childhood Development
Brooklyn Amity School presents early-childhood learners (PreK3 & UPK) with a foundation for happy-learning. Our faculty & staff work endlessly to develop children s social, motor, and emotional skills while maintaining a focus on molding them to become good-people. Our early-education curriculum is designed to build children s self esteem, sense of competence, and positive feelings towards learning, in a fun and engaging manner.
Cultural Diversity & Acceptance
"Our ability to reach unity in diversity will be the beauty and the test of our civilization" - Mahatma Gandhi - Cultural diversity, worldly understandings, and acceptance-of-all, are unique characteristics that we, at Brooklyn Amity, take pleasure in instilling in our students, each day. Our school is comprised of students from all cultures, creeds, and socio-economic backgrounds. We also house a number of international students on our campus.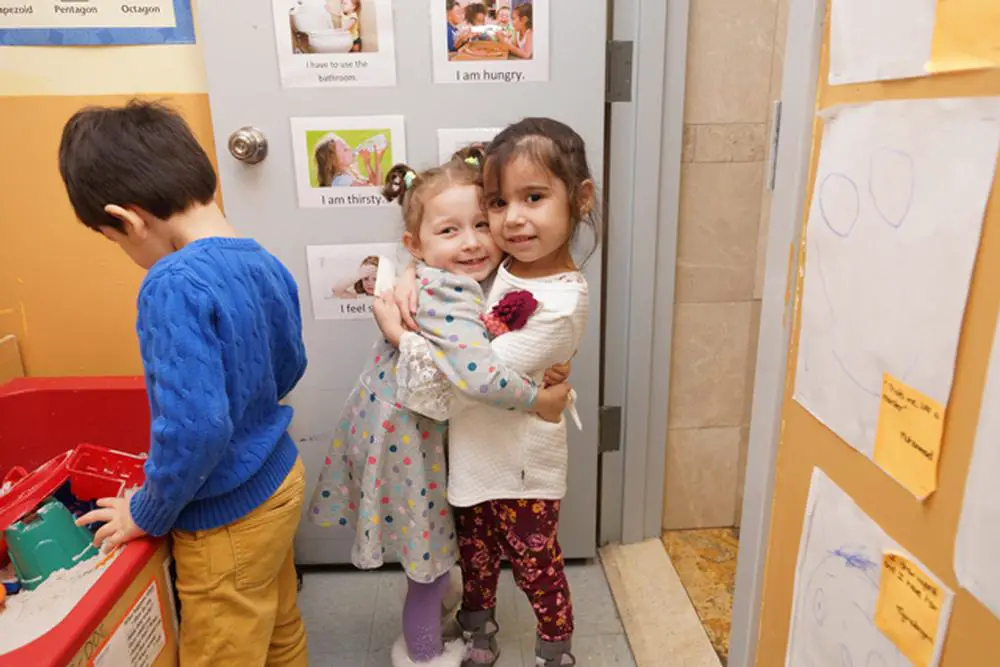 Early-Childhood Enrichment
Beginning this fall, Brooklyn Amity School will offer a PreK-3 program; to provide a progressive, early-childhood enrichment program to 3-year-olds whose families seek to expose their child to the foundations of learning at an earlier age. Our 3-year-old, early-childhood enrichment program provides an integrated curriculum of activities balancing emotional, social, physical and intellectual development. To note, those enrolled in our PreK-3 program will receive priority-preference when applying to our free, UPK program, the following year. Our UPK program fully prepares students for the kindergarten level. Our UPK curriculum is designed to build on our PreK3 program and continue developing children's self esteem, sense of competence, intellectual capacity, basic motor skills and positive feelings towards learning, in a fun and engaging manner. In addition to our stringent focus on standard early-childhood development, we also provide children with an enrichment-factor that immerses students in number of fun-filled developmental electives. - Yoga/Dance - Arts & Crafts - Computers - Gifted & Talented Preparation - Foreign Language - Music - Physical Education - Arts & Crafts As a program, we also provide interested families with the following UPK services: - Half-Day (8am-12pm) & Full-Day (8am-3pm) Options - Selective Drop-Off Van Service (3pm & 6:30pm extended day options) - Free Hot Breakfast - After-School Enrichment Program - Early Drop-Off at 7:15am
Elementary School
Brooklyn Amity's Elementary Program delivers a vibrant curriculum (& atmosphere) that dedicates itself to providing Kindergarten through Grade 5 students with the essential foundations of learning. Through our focus on STEAM (Science, Technology, Engineering, Arts and Mathematics) and genuine interest in preparing students for middle-school, our faculty challenges students academically & supports, encourages, and praises the success of each. In essence, Brooklyn Amity's elementary program offers a balanced and rigorous curriculum, one that provides students with the knowledge and skills to make them productive, successful and engaged citizens. Our elementary program also promotes the inclusion of elective-study and recently added a number of intriguing and fun-filled areas of study for elementary-aged students (Computers, Spanish, Music, Art). Beginning in their 3rd grade year, elementary students sit for the New York State standardized examinations in English-Language Arts & Mathematics. In the 4th grade, students will sit for the NYS Science examination, as well. Our after-school enrichment program allows elementary-aged students to participate in several fresh & skill-building programs (Book Club, Dance, Drama, Foreign Language Club, Youth Coding/Robotics, Chess, First Lego League, etc)
Middle School
Middle School (Gr. 6-8) is a time of transition. As students become more mature, they increase in their ability to be independent thinkers and learners. Brooklyn Amity's middle school program is designed to encourage students to take responsibility for their education and prepare them for the challenges of high school. Brooklyn Amity School is one of the leading private middle schools (Gr. 6-8) in Brooklyn and truly prides itself on its ability to help students discover their uniqueness (as individuals) and value contributing to a community (as a whole). The middle years of education play an essential role in an adolescent's life and will heavily dictate who they become in years thereafter. Brooklyn Amity not only provides high-quality education, but we also help students by counseling session. Our conducive learning environment and innovative programs (American Sign Language, Computers/Technology, Spanish) all serve to foster hidden-talent (& interests) among students. Middle School students also sit for the NYS Math, ELA, and Science (Gr. 8 only) examinations. For middle school students, Brooklyn Amity is an institution where students receive ultimate exposure to grow their skills. We value everyone s dream and reinforce the progress of students because we know knowledge (and the support of one's growth) transforms dreams into reality. A number of our students prepare for the SHSAT and have gained acceptance (and have gone on) to a number of specialized public high schools in the New York City area. Middle school students flourish in our after-school enrichment program with leisure and competitive programs such as: - Math Olympiad - Science Olympiad - Chorus - Drama - Band/Ensemble - Art Club - SHSAT Prep - CoderZ
High School
Our growing High School Program (Grades 9-12) provides a rigorous, college preparatory curriculum designed to serve as the final step (at Brooklyn Amity) for students to hone their academic foundation and solidify themselves as productive members of society. Through innovative course-implementation (Zoology, American Sign Language, Financial Literacy, Coding, App Building, etc), students graduate with a broadened understanding of the world and a level of personal-responsibility that is certain to be utilized at the university level. Within Brooklyn Amity's high school program, caring and experienced teachers guide students toward achieving their educational goals, helping them make good academic choices, develop their own interests, assist with students' realization of their true potential, introduce them to a world of possibilities, and further empower them to embrace learning. High school students are encouraged to develop their own independence by trying new things, exploring new options and seeking new destinations. In short, we encourage high school students to look at learning as an adventure and at success as a result of hard-work, passion and determination. Our academic program is supplemented by a variety of enrichment initiatives. High School students participate (& compete) in many intriguing after-school programs and student-led clubs. - Robotics - Social Media Team - Student Council - SAT/PSAT Prep - Chorus - Drama - Art-Club - Amity Outreach Brooklyn Amity School prides itself on its focus on college preparedness and its dedicated efforts of providing students with the fundamentals necessary for success on the university level. Our students have gained acceptance into many prestigious, four-year universities - (Fordham, NYU, Manhattan College, Stevens Institute of Technology, Washington State, Penn State, UCLA, Univ. of Miami, Sarah Lawrence, UCONN, UMASS, Virginia Tech, Cal-Berkeley, Univ. of Arizona, St. John s, Northeastern, among many others).
Arts Program
Our Arts Program will be growing immensely in the near future. With plans to implement a band/ensemble, an intensive art-club, a thriving female chorus, a film & media program, and drama/theater curriculum, our arts program will fully encompass what we envision, at Brooklyn Amity School, to be a vital part of one's education. We also plan on establishing a Performing Arts Center where students can perform and craft their artistic talents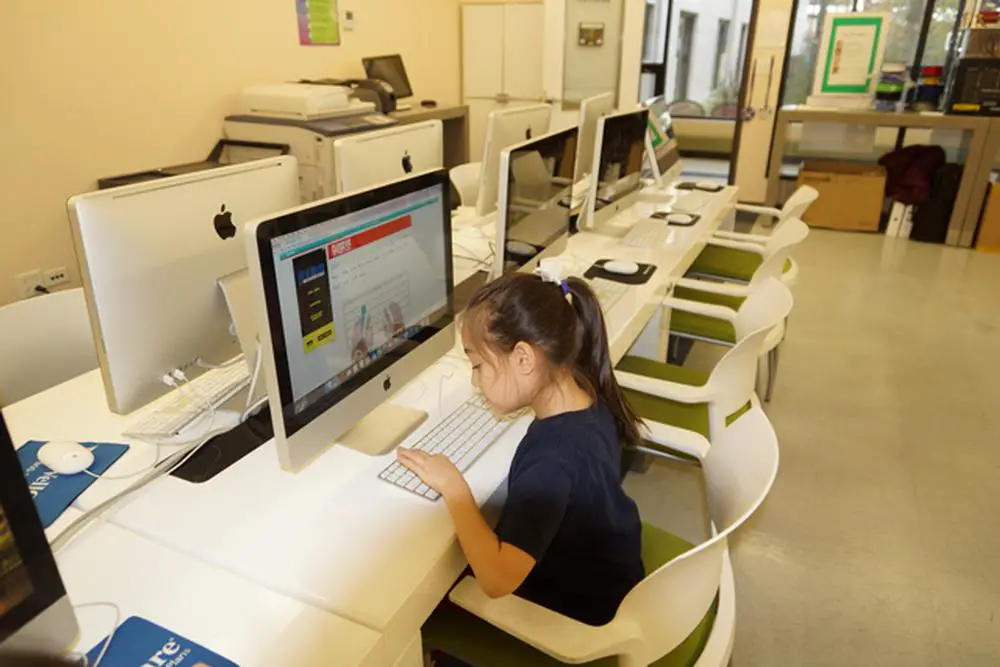 Science & Technology
As part of our STEAM focus, our SCIENCE & TECHNOLOGY program combines in-class study & application with competitiveness & scientific-intrigue. Students have the opportunity to work in a fully functional Computer Lab that includes MAC desktops & Ipads. Standard elementary computer CLASSES are provided to Grades 3-10. On the elementary & middle school levels, students engage in basic/intermediate software introduction and begin to develop programming & coding skills with programs such as MIT Scratch & CoderZ. High School students advanced their basic understanding of technology with advanced study in Coding & Application Building. In science, we strive to find new & interesting areas of study for students (Zoology, Forensics, Robotics, Ecology, Understanding Mental Health). In addition, all grade-levels have the opportunity to utilize their knowledge in science/technology as a member of one of our COMPETITIVE TEAMS. Our competitive teams travel throughout the north-east and compete against schools in a multitude of sponsored events. - LEGO League (Elementary School) - Science Olympiad (Middle School) - Robotics (High School)
Amity Outreach
At Brooklyn Amity School, we prepare students to become productive, engaged, and empowered members of society. With our AMITY OUTREACH program, students participate in domestic (& global) initiatives that serve to create awareness, help those less fortunate, and thank those who serve the community, each day. Here are a few initiatives we've participated in this year. - Community Mayor's OPERATION SANTA CLAUS - celebrate the forthcoming holiday season with students with disabilities. - UNGA Conference 2018 - Transforming our World: SDGs (Sustainable Development Goals) to ensure no-one is left behind (poverty, human rights, etc) - Youth Voices on Global Goals - to raise awareness and engage youth in an interactive discussion with innovative ideas, and promote global citizenship for peaceful and cohesive societies. - Disaster Relief Initiative - collected donations of clothing, canned-goods, bedding, and appliances for those affected by this year's hurricanes. - Masbia Soup Kitchen - students provided hot, nutritious meals to hundreds of New Yorkers in desperate need of food.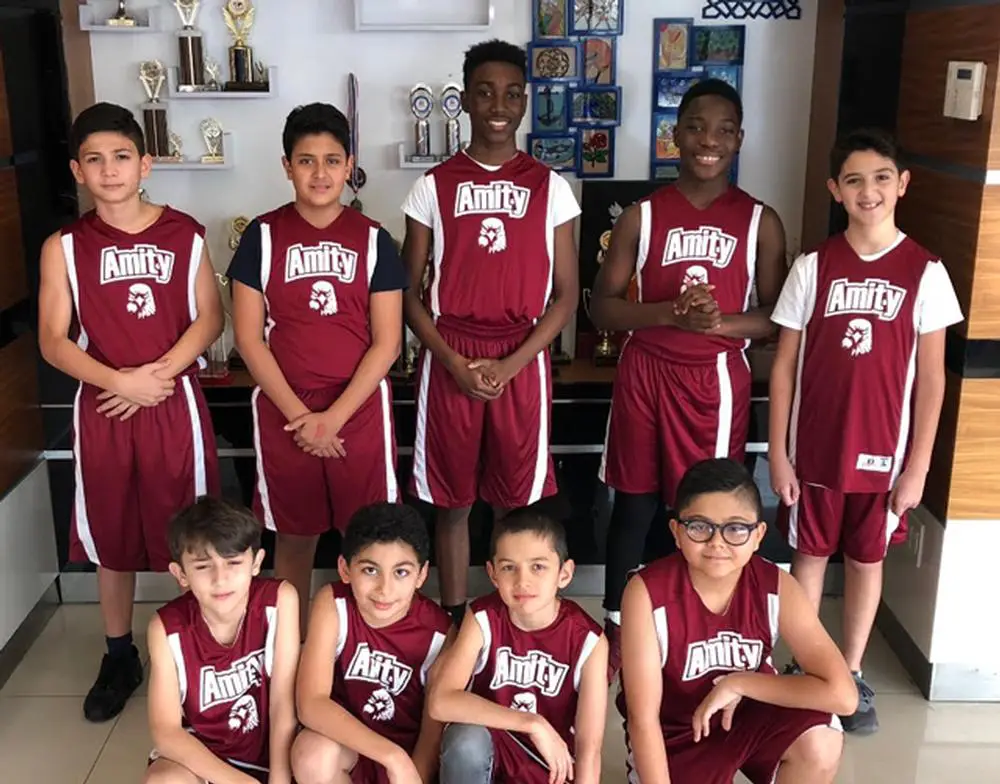 Athletics
Our Brooklyn Amity Athletics Program has begun taking the necessary steps in establishing a formidable athletics department. This year, we implemented competitive basketball & track & field teams, as well as intramural play in such sports as soccer & volleyball. We fully expect to expand our offerings in the coming years. GO EAGLES!
Foreign Language
Me Encanta Aprender Nuevos Idiomas! - In today's world, most researchers and educators agree that the earlier a child starts learning a second language, the better. Some have disclosed that second language acquisition skills peak at or before the age of 6 or 7. Others claim that this window extends through one's early-adolescence. But, all can attest that it is more difficult to first-learn a second language following one's initial teenage years. With that understanding, Brooklyn Amity School prides itself on being able to offer students (PreK-Gr. 12) a foreign language of some-kind. In many instances, students are learning more than one at a time. This year, we are offering students Spanish & American Sign Language. Our offerings currently extend in our after-school program, as we offer the additional language of Arabic as part of our Foreign Language Club. In years to come, we plan on expanding our foreign language curriculum even more with the likes of French, Mandarin, and Russian.
Events
Brooklyn Amity's students, families & staff all gather and engage with one another (in a community setting) at several school-sponsored events throughout the year. Some highlighted events include: -College Fair -Horror Movie Marathon -Winter Wonderland Party -Ice Skating Party -Field Day -Talent Show -Spirit Week -Multicultural Day -Curriculum Night -Spelling Bee -Arts-Fest -Carnival/Feast -Silent Auction -Science Fair
Please send me information about Brooklyn Amity School
Find More
EDUCATION - PRESCHOOLS

Brooklyn Amity School will now be offering a tuition-based pre-K-3 program. This early childhood program will offer two enrollment options: half-day (8am-12pm), and full-day (8am-3pm). Our free UPK program provides an integrated curriculum of activities balancing emotional, social, physical, and intellectual development. Visit amityschool.org, for more details about the program.
Get the Best Family Activities
Sent to You Weekly!