Children's Museum of the Arts
103 Charlton St.
New York, New York
212-274-0986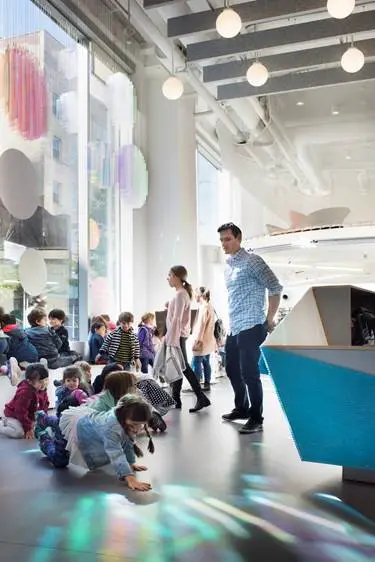 Children's Museum of the Arts is a nonprofit art museum that introduces the transformative power of the arts to children and their families. CMA's staff of professional artists guide and mentor young artists ages 10 months to 15 years through advanced art projects across a variety of techniques and mediums including printing, drawing, painting, weaving, sewing, photography, animation, filmmaking, editing, sculpting, graphic novel, and more.

CMA Live!
CMA Live! brings the Museum's renowned programming into your own home with interactive live sessions taking place over zoom. Children can participate in sing-alongs, create their own artworks, explore creative movement and dance, learn the art of theater, and much more.
Learn more at: https://cmany.org/cma-live/
Summer Art Colony Camps
Spend the summer with Children's Museum of the Arts! CMA's week-long summer camps run from June through September at the museum on 103 Charlton Street, on Governors Island, and at Lakeside in Prospect Park. This summer, CMA is debuting online half-day camps, which will allow students from all over the country to participate in CMA's art camps.
Learn more at: https://cmany.org/classes-and-activities/art-colony/summer-103-charlton/

Teen Programs

GirlStories is a free after school program for girls and non-binary artists ages 12-15 that empowers them to become makers and individuals, and encourages them to bring their unique perspectives into fields that are lacking a female voice. GirlStories will expose the participants to the work of other women artists in disciplines that include: filmmaking, performance art, writing, illustration, and sculpture. The program will include visits from guest artists and hands-on experience with techniques, processes, equipment and technologies used in making art.

Learn more at: https://cmany.org/classes-and-activities/for-teens/
Private Lessons

CMA's private lessons offer one-on-one mentorship for children interested in further developing skills, working on a special project, or fulfilling a portfolio requirement. Students choose their medium and take advantage of our state-of-the-art animation software, recording equipment, and fine arts materials. Small group lessons are also available for young artists who want to make art with friends.

Learn more at: https://cmany.org/classes-and-activities/private-lessons/
Contact Us About Children's Museum of the Arts
Find More
BIRTHDAY PARTY PLACES

Art-filled parties begin with time to explore the museum's hands-on workshops. Experienced teaching artists lead children in your choice of private workshop. Parties end with food and cake.
Get things to do with your kids
Delivered right to your inbox