Children's Museum of the Arts
103 Charlton St.
New York, New York
212-274-0986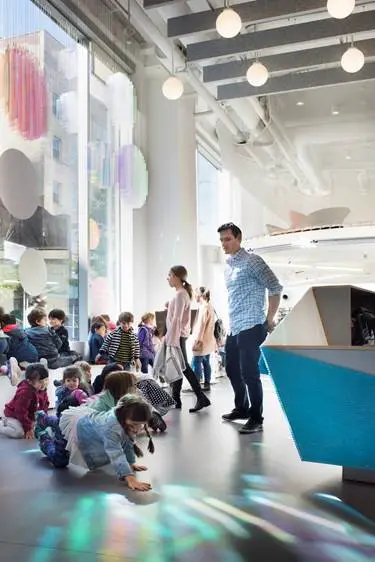 Children's Museum of the Arts is a nonprofit art museum that introduces the transformative power of the arts to children and their families. CMA's staff of professional artists guide and mentor young artists ages 10 months to 15 years through advanced art projects in professionally equipped studios across a variety of techniques and mediums including printing, drawing, painting, weaving, sewing, photography, animation, filmmaking, editing, sculpting, graphic novel, and more. The central Cynthia C. Wainwright Gallery displays a rotating series of contemporary artwork by emerging and established artists from New York City and around the world. In addition, CMA's dual-level Bridge hosts a rotating series of interactive site-specific installations that are thematically linked to the main exhibition in the gallery.

Art Colony Day Camps

CMA's day-long Art Colony camps offer children an opportunity to unleash their creativity through painting, sculpture, animation, drawing, and more! All classes are led by professional working artists trained in teaching art-making to children. Camps are held during school holidays and summer vacation — perfect for working parents!
Learn more at https://cmany.org/classes-and-activities/#art-colony
After School Art Classes

Extend learning beyond the classroom during the school year with CMA's After School classes. Through a weekly, immersive arts class, children develop a portfolio of that explores a wide range of materials and art-making techniques. CMA's After School program is both a fun and educational way to unwind after the school day!

Learn more at https://cmany.org/classes-and-activities/afterschool/
Under 5s Art Classes

CMA's stART Studio provides a dedicated, specially-designed art and play studio for children who are mobile (around 1) to 5. This colorful and sun-lit space features special art stations designed to nurture your child's creativity, curiosity and developmental growth lead by early learning professionals, all of whom are artists. Your child will explore and grow at their own pace, building confidence, vocabulary, and motor skills, all while making new friends and having loads of fun! Choose from daily weekday drop-in sessions or semester-long registered classes, or swing by the studio during the museum's public hours!

Learn more at https://cmany.org/classes-and-activities/wee-arts/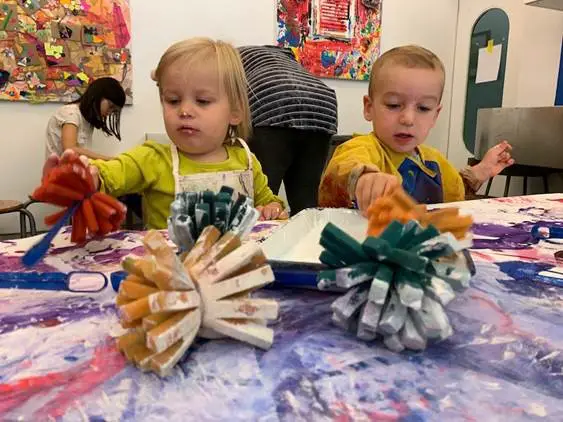 Teen Programs

GirlStories is a free after school program for girls and non-binary artists ages 12-15 that empowers them to become makers and individuals, and encourages them to bring their unique perspectives into fields that are lacking a female voice. GirlStories will expose the participants to the work of other women artists in disciplines that include: filmmaking, performance art, writing, illustration, and sculpture. The program will include visits from guest artists and hands-on experience with techniques, processes, equipment and technologies used in making art.

Learn more at https://cmany.org/classes-and-activities/for-teens/
Birthday Parties

Enjoy an art-filled celebration with your child and friends! The party begins with free time to explore the museum's interactive workshops. Our experienced Teaching Artists then lead the children in a private workshop of your choice and end the festivities on a sweet note with food and cake.

Learn more at https://cmany.org/about/birthdays-rentals/birthdays/
Accessible Arts Programs

CMA offers free weekend art classes, tours, and camps for children with disabilities and their families. Inclusive Weekend programs offer structured early childhood, fine and media arts for children with disabilities and their families. Programs provide a safe space to develop social skills and manual dexterity through the arts. Typically developing siblings and friends are welcome.

Learn more at https://cmany.org/schools-and-community/access-programs/accessible-art-programs/
Private Lessons

CMA's private lessons offer one-on-one mentorship for children interested in further developing skills, working on a special project, or fulfilling a portfolio requirement. Students choose their medium and take advantage of our state-of-the-art animation software, recording equipment, and fine arts materials. Small group lessons are also available for young artists who want to make art with friends.

Learn more at https://cmany.org/classes-and-activities/private-lessons/
Contact Us About Children's Museum of the Arts
Find More
BIRTHDAY PARTY PLACES

Art-filled parties begin with time to explore the museum's hands-on workshops. Experienced teaching artists lead children in your choice of private workshop. Parties end with food and cake.
Get Sanity Saving Ideas & Activities
Delivered right to your inbox