Clover Hill School (The)
Click Here to Get More Info
Bringing Education Inspired by the Waldorf Philosophy since 2004
Programs for children of all ages up to six:

•Mixed-Age Kindergarten for three to six year olds.
•Gentle Beginnings nursery program for children 2¾ to 3½
•Growing Together program for parent & children one to three years old:

The Growing Together programs for moms, dads and children are designed to meet the needs of the young child and are inspired by Waldorf education. The Parent & Child program, for children 13 months to 3 years old, meets on Thursdays from 9:30 - 11:30 a.m. Our NEW Parent & Infant program, for children 2 months to 12 months old, meets on Fridays for an hour in a half. We welcome mothers-to-be to this class to share in our activities! Our day often includes these activities:
•Organic bread baking
•Simple craft making from natural materials
•The celebration of seasonal festivals
•Puppetry
•Organic tea and a wholesome snack
•Outdoor play
•Circle play with songs, finger games and nursery rhymes

Mothers-To-Be Are Welcome!
Camp Sign ups are under way for summer fun!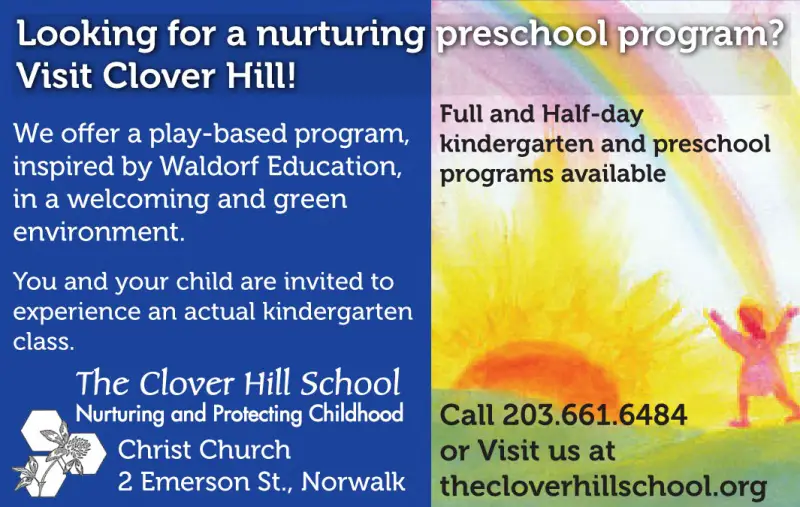 CAMPS -- DAY CAMPS -
The Clover Hill School, where uncommon learning is at the core, is offering early childhood programs inspired by Waldorf education for ages 2 months to 6 years. The full- or half-day programs focus on giving children healthy movement and freedom to play in our warm and home-like classrooms. The day begins and ends with outdoor play in our private play yard. The children joyfully participate in preparing organic and low-allergen snacks. You and your child are invited to experience our classrooms on Wednesdays, 10:30–11:30 am. To reserve a spot, email sarah@thecloverhillschool.org or call 203-661-6484.
Contact Me About Clover Hill School (The)
Read More About Clover Hill School (The)