Future Stars Summer Camps -- Nassau
Future Stars Summer Camps – Nassau & Suffolk
Multiple locations across Long Island



Future Stars Summer Camps
Farmingdale (Farmingdale State College) 631-769-2267
Old Westbury (The College at Old Westbury) 516-226-2267
Patchogue (St.Joseph's College) 631-572-0232
Southampton (SYS Recreation Center) 631-287-6707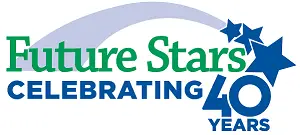 Future Stars Summer Camps offers 30+ weekly Sports, STEAM, and Specialty camp programs at multiple locations across Long Island. With flexible weekly scheduling, campers can mix and match for the Ultimate Summer Camp Experience! This Summer Future Stars Summer Camps celebrates 40 Years of Excellence, having helped campers build skills, build character, and build friendships since 1980.
Summer 2020 programs will run weekly throughout July & August for Boys & Girls K-10.
Programs run Monday to Friday 9am-4pm with extended hours available.
Outstanding facilities allow campers to participate in a safe environment to ensure they have a fun and rewarding camp experience.
Working under the guidance of certified coaches, trainers, and teachers, campers have a balanced day of instruction and fun.
SPORTS CAMPS for players of all levels include; Baseball, Basketball, Cheerleading, Golf, Lacrosse, Field Hockey, Flag Football, Football, Multi-Sports, Soccer, Softball, Swim, Tennis, and Volleyball
STEAM EDUCATION CAMPS for students of all levels include; 3D Building w/Minecraft, 3D Modeling, 3D Printing, Battlebots, Coding, Digital Video Production, Drone Coding, eSports, LEGO Robotics, LEGO Stop-Motion Animation, STEAM Explorers, Video Game Design, and Web Design
SPECIALTY CAMPS for campers of all levels include: Adventure, Dance, Drama, Horseback Riding, Magic, and Multimedia
EARLY EDUCATION CAMPS for our younger campers K-2 include; All Stars, and Rising Stars
FULL DETAILS AVAILABLE AT FSCAMPS.COM
Get things to do with your kids
Delivered right to your inbox