German International School New York (GISNY)
50 Partridge Road
White Plains, NY
914-948-6513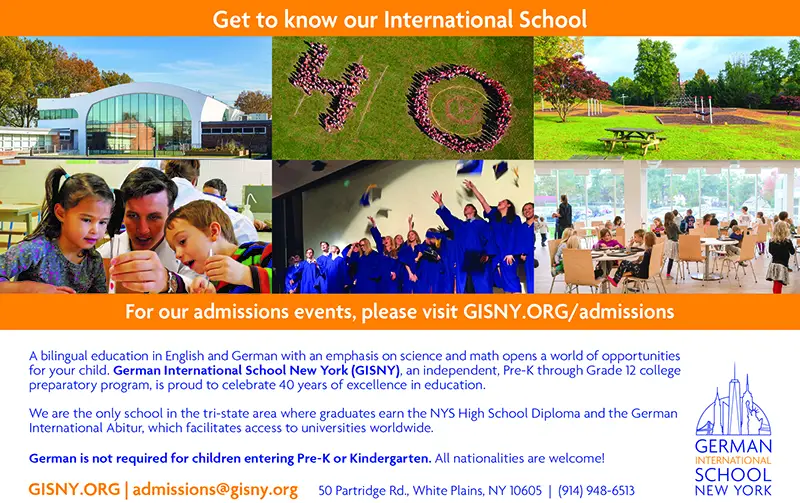 Our next Virtual Open Houses will take place on June 10th, 2020 and June 25th, 2020 from 11am to 12:15pm. Please go to: https://www.gisny.org/admissions to register.
INSPIRING ACADEMIC EXCELLENCE. DEVELOPING GLOBAL CITIZENS. OPENING A WORLD OF OPPORTUNITIES.

German International School New York (GISNY)
Established in 1980, German International School New York, an independent Pre-K through Grade 12 college preparatory program, is celebrating 40 years of academic excellence.
Our German-English bilingual education and rigorous academics with an emphasis on science and math cultivate students to develop into curious, analytical, and conscientious global citizens.
We are the only school in the tristate area, where graduates earn the NYS High School Diploma and the German International Abitur, a globally recognized diploma, which gives access to universities worldwide.
Children entering our Pre-K or Kindergarten programs are not required to speak or understand German and will build the foundation of being bilingual by first grade. All nationalities are welcome!
GISNY is located on 20 acres of beautiful and safe grounds in White Plains, NY.
For details and to register for our admissions events, please visit: https://www.gisny.org/admissions.
German International School New York (GISNY)
50 Partridge Road, White Plains, NY 10605
GISNY.ORG
admissions@gisny.org

Contact Us About German International School New York (GISNY)
Find More
Hand-Picked Family Activities
Sent Every Weekend