Great Beginnings Montessori School
Click Here to Get More Info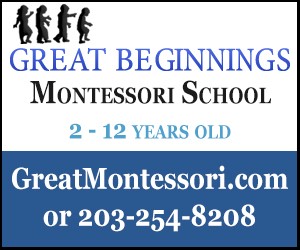 GREAT BEGINNINGS Montessori School is a private school in Fairfield, CT. We provide a happy and secure, mixed-age environment for children ages 22 months through 12-years. Our programs are based upon the Montessori method. The Montessori curriculum and prepared environment encourages students to fulfill their developmental potential and become independent, self-confident learners. Each classroom has a full complement of Montessori materials and is lead by a trained, credentialed Montessori teacher. At GREAT BEGINNINGS Montessori Preschool and Elementary School our classrooms are bright and inviting. Large windows look out onto the playground. In addition, garden areas are used by the children for recreation and nature study.
•Toddler: 22 months to 3 year old program
•Primary: 3 to 6 year old program
•Elementary: 6 to 12 year old program
•Summer Program
BACK TO SCHOOL
Individualized instruction is a standard of Montessori education. Each child learns and develops at her or his own pace through the use of materials and lessons introduced by the certified teacher. The integrated and comprehensive curriculum is introduced sequentially and at the developmental level of each individual child, allowing each student to work to capacity at their ability level in order to develop their fullest potential. Great Beginnings Montessori is enrolling for 2016-17. Contact the school to schedule an appointment to visit and observe in our classrooms, 203-254-8208, admin@greatmontessori.com.
Interested in learning more about this business
Submit your contact information to get more info from the business above.