The Green Vale School
250 Valentine's Lane
Old Brookville , NY
516-621-2420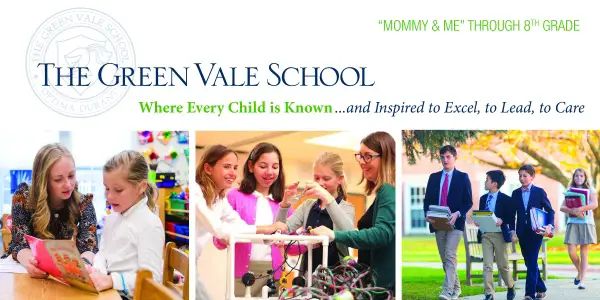 The Green Vale School
Green Vale is a coed, nonsectarian elementary school for Pre-Nursery through 8th Grade, drawing families from all over Long Island. Since 1923, a program of exceptional academics and small class sizes is combined with emphasis on athletics, visual and performing arts, and character education at every grade level. After a culminating experience in the middle school years (6th-8th grades), GVS graduates go on to excel at independent, public, and boarding secondary schools.
Peak Learning at Green Vale   
"Beginnings" at Green Vale is a "Mommy & Me" experience. Taught by Cara Hershkowitz, Beginnings offers the very young child (9-23 months) the opportunity for exploratory, interactive and parallel play with their caregiver as well as their peers. We welcome all adult caregivers and have been fortunate to have mothers, fathers, grandparents, and nannies participate. The grown-ups enjoy connecting with other adults as the children start to experience what school is all about. Everyone loves starting their day at Green Vale. Monday-Friday 8:30 am - 10:00 am
Contact Us About The Green Vale School
Find More
Get the Best Fall Family Activities
Sent to You Weekly!