Harvey Cavalier Summer Camp at the Harvey School
Send me info
260 Jay St.
Katonah, NY

Off-season: 845-677-0491 Summer: 914-232-0581
Harvey Cavalier Camp is situated in an incomparable setting of magnificent vistas which include expansive fields and woods on its 125 acres in the hills of Katonah, New York.
In our camp offerings, children in grades Pre-K through ninth can pursue their passion for the performing and/or fine arts, guided by professional educators and artists. The children develop the confidence that comes from mastering new pursuits and meeting others with similar interests—all in a nurturing, relaxed and beautiful environment.

Your child will experience creative self-discovery in theater, dance, music, fine arts, computer graphics and science while also enjoying the options of playing sports, doing gymnastics, swimming and ice skating! No other area day camp offers such a unique variety of electives! Group productions add dimension and depth to the entire camp experience as well as promote the value of working collaboratively to reach group goals.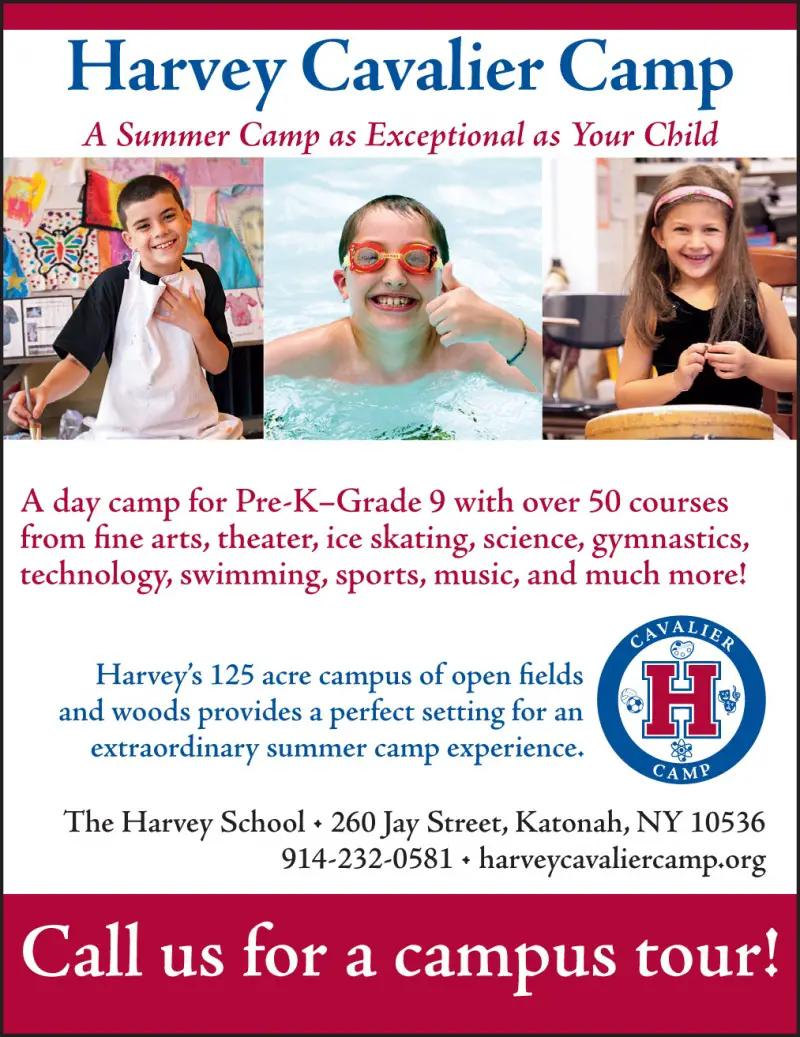 SPORTS - PROGRAMS - MULTI-SPORTS
The Harvey Cavalier Summer Camp for children ages 4-14 offers programs filled with electives in fine arts, crafts, theater, music, and dance, as well as swimming, ice-skating, gymnastics, sports, and science. Guided by professional artists and educators, campers enjoy an adventure of self-exploration. Harvey's sprawling 125-acre campus provides a perfect setting for summer fun: an outdoor pool, indoor ice-skating rink, the state-of-the-art Walker Center for the Arts, open fields for sports, and shady pathways through our woods. The Harvey Cavalier Summer Camp—Northern Westchester's best-kept secret in summer day camps.
Meet the Director

Director Chris Del Campo begins his 20th year this summer. With over 35 years as an educator, he and his exceptional staff offer a program that allows children to take ownership of their camp experience. The Cavalier Camp offers over 45 electives from which to choose, including dance, theater, music, fine arts, swimming, ice skating, gymnastics, martial arts, science, and computers. Nowhere else in Northern Westchester can a child swim one day and ice skate another! Call today for a personal tour.
Contact Me About Harvey Cavalier Summer Camp at the Harvey School
Find More
Read More About Harvey Cavalier Summer Camp at the Harvey School
Get NYMetroParents via Email