Holiday Hill Day Camp
Click Here to Get More Info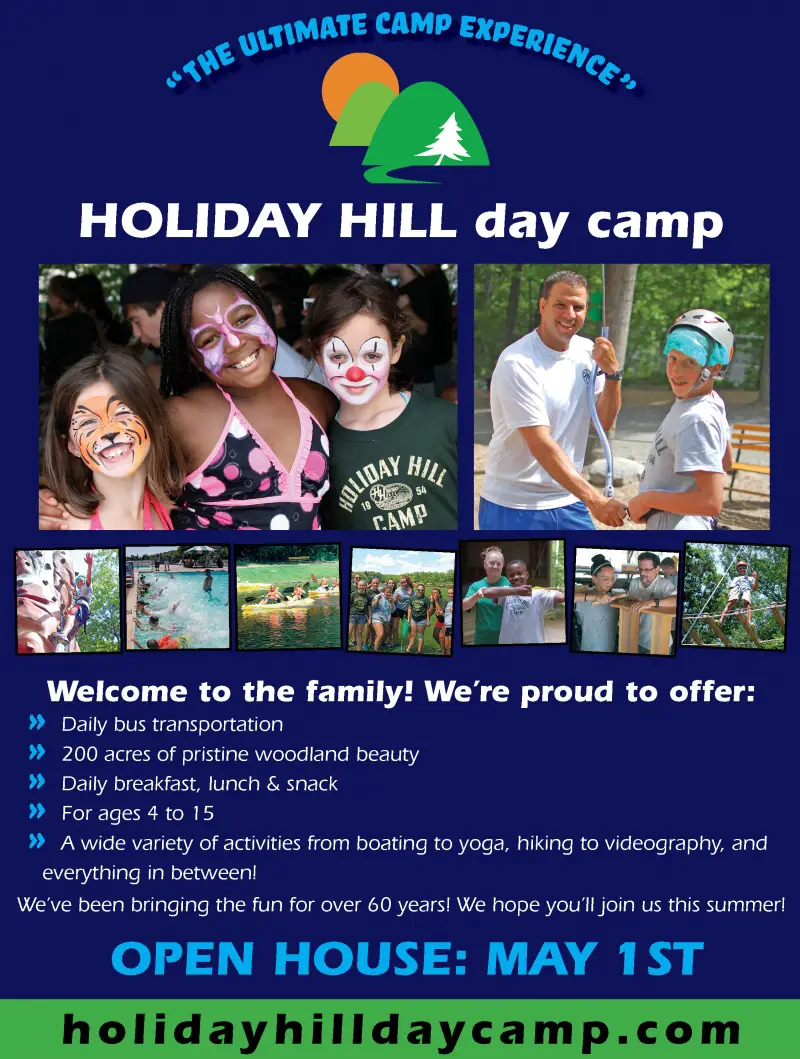 Holiday Hill Day Camp has been providing great day camping for children since 1953. In all those years we have learned the basic truth about all kids - they just want to have FUN! There's an abundance of fun to be had at Holiday Hill Day Camp and as our campers play and enjoy they also master new skills, overcome challenges and build confidence. At the same time they develop special friendships and come away with memories that last a lifetime.
Some of our activites are:
•Archery
•Arts & Crafts
•Basketball
•Boating
•Camp PE
•Ceramics
•Climbing Wall
•Cooking
•High Ropes
•Drama
•Fishing
•Gaga Pit
•Horseback Riding
•Lower Field
•Low Ropes/Project Adventure
•Mats/Pilates/Yoga
•Mini Golf
•Music
•Nature
•Newspaper
•Photo Freaks
•Special Days
•Swim Instruction
•Free Swim
•Tennis
•Woodworking
Holiday Hill is is comprised of more than 200 acres of meadows, woodlands and lake area. It is also unique among camps for it's resort-like facilities.
The Main Lodge, where all meals are served, is a magnificent post-and-beam structure with patios and decks that provide sweeping views of the Quinnipiac Valley. Along with the North Pavilion, these buildings provide large covered areas for certain programs (such as Camp PE) as well as a dry environment for those unavoidable rainy days. The open-air Ballfield Pavilion provides more undercover area as well as housing the kitchenette used for cooking classes. Many activities such as arts and crafts and ceramics have their own dedicated camp cabins. A skilled maintenance staff keeps both the grounds and facilities in immaculate condition.
•The Main Lodge
•The North Pavilion
•The Ballfield Pavilion
•2 Heated Swimming Pools - 3 to 5 ft. deep and 3 to 11 ft. deep
•2 Softball Fields
•1 Mini-Golf Course (9 holes)
•1 Hardtop Volleyball Court
•1 Sand Volleyball Court
•2 Basketball Courts
•2 Bocce Courts
•4 Ping Pong Tables
•1 Horseback Riding Arena and trails for Western-style Riding
•4 Tennis Courts
•2 Badminton Courts
•2 Shuffleboard Courts
•5 Horseshoe Pits
•Open Fields for Soccer and other games
•1 Five-acre Lake with Sandy Beach, Rowboats, Kayaks and Canoes
•1 Playscape - "Big Toy"
•2 Gaga Pit
•1 Indoor Game Area with Ping Pong and Foosball
•1 High Ropes Course
Interested in learning more about this business
Submit your contact information to get more info from the business above.