Imagination Pre-School
Click Here to Get More Info
380 Nicolls Rd
Stony Brook, NY

631-246-5269
Categories: Preschool
Our goal is for Imagination Pre-School to be a pleasant, friendly place for each child. They should be eager to come to school to learn and have fun. The happiness and well being of all the children is of utmost importance to us. Our staff will, through the curriculum, provide each student with a positive self-image and a strong beginning toward independence. With this base, your child will grow both educationally and socially.
Our Pre-School and Nursery programs are innovative, creative, fun-filled, active, and comprehensive. The specific classroom activities for your child will depend on the age group, and generally include:
Language arts
Reading readiness and writing
Computer skills
Science units (5 senses, magnets, wind and air, sink and float, metamorphosis, seeds, environment, creating colors, good health, animals and plants)
Social studies (holidays, customs, community helpers)
Music
Arts and crafts
Storytime
Cooking
Daily outdoor play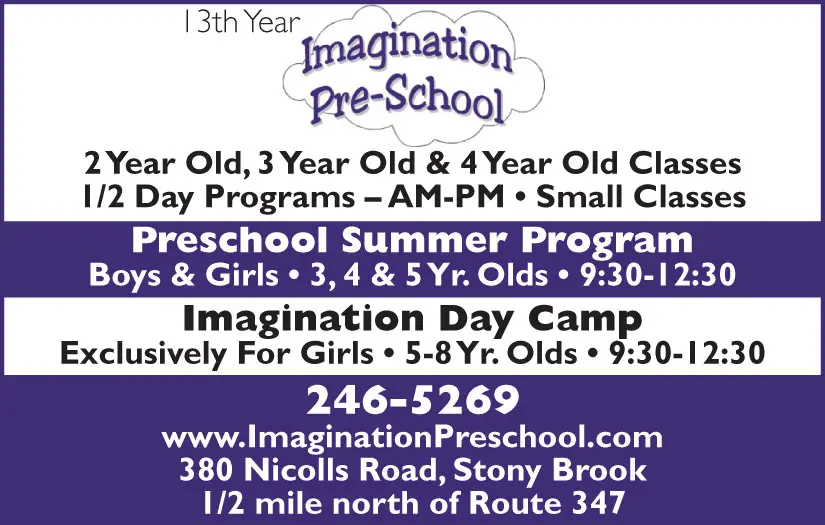 CAMPS
Imagination Pre-School Summer Program for 3, 4-and 5 year-old boys and girls offers sand and water play, sprinklers, daily arts & crafts, painting, music, computer, snack, and weekly special events including Carnival, Jr. Olympics, Storybook Land. Imagination Day Camp also offers a camp just for 5 - 8-year- old girls, offering crafts including scrapbooking and beading, sand art, painting, dancing (Macarena, etc), outdoor activities. Weekly special events: Hannah Montana Day, Masquerade Ball, Nail Salon Day, High Tea, Hawaiian Day, Pajama Day.
Contact Me About Imagination Pre-School